A sea turtle had to be freed after it got caught up in floating bales of cocaine worth tens of millions of dollars.
The US Coast Guard launched a cutter when a pile of debris was spotted floating on the water on 19 November. Upon closer inspection, the sea turtle was found to have been caught up in lines and had sustained "significant chafing".
After carefully cutting the lines, the trapped sea creature was freed and the 75ft of line removed to make sure no other creatures would get trapped.
The Coast Guard discovered it had recovered over 1,800lbs of cocaine from the international waters. The drugs would have had a street value over $53m (£39.6m).
That was not all for that patrol though, with the coast guard netting a staggering seven tonnes of narcotic , with a street value totalling over $135m.
The discovery was part of Operation Martillo which saw a team work alongside an aviation detachment from the helicopter squadron and a Royal Canadian Navy maritime coastal defence vessel.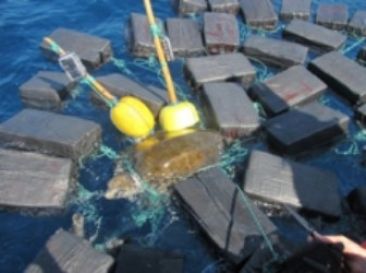 The Coast Guard said Operation Martillo led to the arrest of 24 smuggling suspects and the seizure of 6,755kg of cocaine and 14lbs of marijuana. Martillo is an operation of 18 partner countries. The US coast guard says an international effort has led to a 57% disruption in illicit trafficking.