Video footage has emerged showing the inside of the Las Vegas hotel room used by Stephen Paddock to carry out the deadliest mass shooting in modern US history. Paddock, a 64-year-old retired accountant, turned his suite on the 32nd floor of the Mandalay Bay Hotel into a lethal sniper's nest, gunning down concertgoers at an open-air country music festival below.
The murderous rampage on Sunday night (1 October) killed 59 people and left more than 500 injured.
Last year, holidaymaker Jeff Bridges stayed in the exact same hotel room as Paddock – number 32135. On Monday, he posted a video he took at the time giving a tour of the suite's interior.
The clip includes a chilling moment showing the unobstructed view the high-rise room gives of where the open-air concert took place.
Paddock used two broken-out windows of the suite to rain bullets on the crowd of 22,000 people, with witnesses likening the rampage to shooting fish in a barrel.
Bridges, from North Carolina, stayed with his wife for three days in the room. He wrote alongside the clip: "Andrea and I stayed in that EXACT same room last year on the 32nd floor! Room 32-135! The video ironically ends with a view down on the concert area.
"Again, we would like to send our thoughts and prayers to everyone impacted by this tragedy!"
He later added in the comments underneath: "I thought we stayed on the 36th floor until I went back and reviewed the video. I knew he was in the Vista suite because of where the room was located. All the rooms on the end are suites. Yes, we were shocked."
Police say Paddock's attack was "extensively" planned with SWAT teams finding an arsenal of 23 guns inside his hotel room after blowing open the doors.
He also planted a number of cameras in and around the suite to give him warning when police arrived, including one in the peephole and two others in the outside hallway.
Police said they received the first call at 10.08pm and that Paddock continued to fire for "somewhere between nine and 11 minutes".
His body was later found in his hotel room, having died from a self-inflicted gun wound.
Subsequent searches of his home in Mesquite, Nevada, uncovered more firearms, explosives and several thousand rounds of ammunition.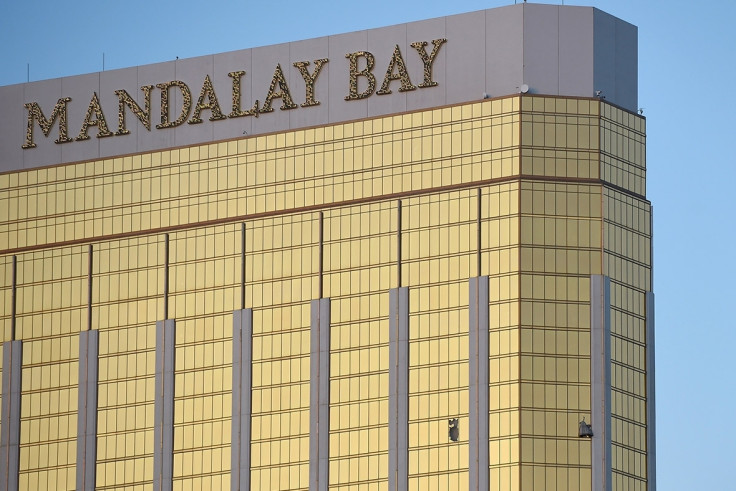 Investigators are still trying to understand why a man with no known record of violence or crime would open fire on a concert crowd from a high-rise hotel.
They have focused their attention on his girlfriend, Marilou Danley, 62, who was away in the Philippines at the time of the shooting.
She was met by FBI agents at the airport in Los Angeles late on Tuesday night.
Clark County Sheriff Joseph Lombardo, who has called Danley a "person of interest" in the attack, said that "we anticipate some information from her shortly," and said he is "absolutely" confident authorities will find out what set off Paddock.
Sunday's shooting has not only reignited the issue of gun control in the US, but also raised questions over the safety of other open-air events amid fears of copycat attacks.
In places like New York, Chicago and Austin, Texas, where big events are planned in city streets in the coming days, police sought to reassure jittery residents of some of the precautions they are taking to prevent just such a scenario.
New York City's police boss says that includes sharpshooters with binoculars on rooftops scanning nearby building windows for potential threats, helicopters circling above with snipers of their own, and detectives making security sweeps of nearby hotels. But he acknowledged there is only so much that can be done.
"We do understand that no city or town in this country is completely immune to such unbridled hatred," NYPD Commissioner James O'Neill told Associated Press.
David Katz, CEO of Global Security Group, which conducts active-shooter training around the world, added: "The answer only really is, if there's a sniper, there's a counter-sniper.
"[But] you're not going to be able to deploy police units with sniper capabilities everywhere. There are, at some point, too many things going on, too many opportunities to stop them all. Unfortunately, if someone is intent on doing harm they will find a way to do it."