Las Vegas mass shooter Stephen C Paddock modified his guns to fire up to 800 rounds per minute using a easily purchased and legal attachment, officials have said.
The 64-year-old gunman killed 59 people and injured hundreds more when he opened fire on a crowd attending the Route 91 Harvest country music festival in Las Vegas, Nevada, on 1 October. He fired from the Mandalay Bay hotel, which is across the street from the site of the festival, before police found him dead from a self-inflicted gunshot wound.
Police found at least 40 firearms belonging to Paddock during searches at the hotel room and his house in the Nevada town of Mesquite. His arsenal included assault-style rifles with scopes and rifles that appeared to have been modified to convert them into machine guns, so that he could fire more rounds faster.
Paddock is thought to have added 'bump stock' devices to at least one of his semi-automatic weapons – which typically only fire one round every time the trigger is pulled – so that it could fire continuously.
Officials said 12 'bump stock' devices were found in the room along with two tripods, which he could have used to fire more accurately.
California Senator Dianne Feinstein said Paddock modified at least one of his weapons, and called for a ban on the sale of such gun attachments.
"Individuals are able to purchase bump fire stocks for less than $200 (£150) and easily convert a semi-automatic weapon into a firearm that can shoot between 400 and 800 rounds per minute and inflict absolute carnage," she said.
Undersheriff Kevin McMahill told reporters that Paddock fired on and off for between nine and 11 minutes, AP reported. He added that the gunman had set up two cameras in the hallway outside his room, to watch law enforcement or security approach.
Clark County Sheriff Joe Lombardo said at a news conference: "The fact that he had the type of weaponry and amount of weaponry in that room, it was pre-planned extensively."
Paddock's motives are still unknown. Police believe he acted alone, but investigations are ongoing.
Although the Islamic State (Isis) terror group claimed responsibility for the attack, both analysts and US officials dismissed the claims as unsubstantiated.
Authorities are to question Paddock's girlfriend, Marilou Danley, who was in the Philippines at the time the massacre took place. Danley returned to the US on Wednesday 4 October.
Officials explained that the woman is not under arrest, but they hope she could provide more information about the attack and the motives behind it.
Gun laws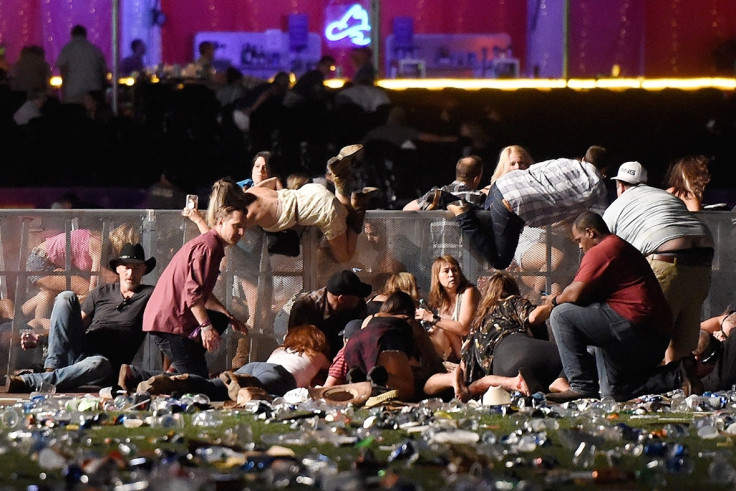 The Las Vegas attack is the deadliest mass shooting in modern US history, surpassing the death toll of the attack at a gay nightclub in Orlando, Florida, in June 2016. Forty-nine people were killed and dozens injured when 29-year-old security guard Omar Mateen opened fire in the club.
The mass shooting is reigniting a debate on gun control in the US, where the Second Amendment of the Constitution guarantees citizens "the right to keep and bear arms". Federal laws set minimum standards for gun regulation, but individual states can implement their own laws.
Some restrictions were imposed with the introduction of the 1994 Federal Assault Weapons Ban. It was part of the Violent Crime Control and Law Enforcement Act of 1994, which expired in 2004 and was not renewed.
Nevada is said to have some of the most relaxed gun laws in the US. People do not need a permit to purchase and posses "a rifle, shotgun or handgun", according to the National Rifle Association (NRA), which lobbies for gun rights.
State laws do not prevent people from carrying firearms openly, but "one should exercise caution". It is legal to carry arms in bars, restaurant and casinos, but not government buildings, according tocarrynevada.org.