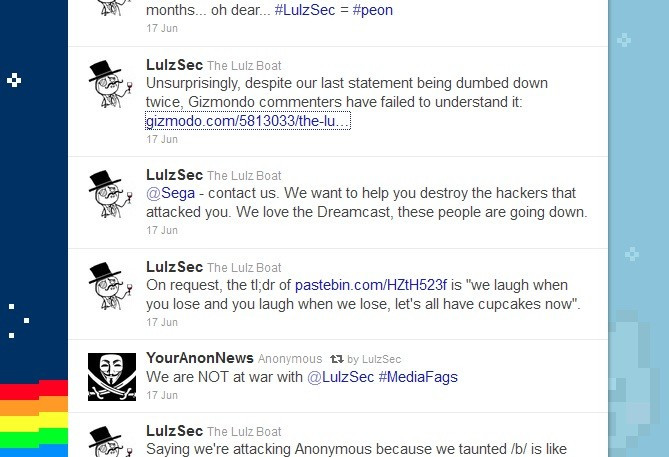 After games industry titan Sega last week revealed that a recent cyber attack on its network left 1.29 million of its customers personal data compromised, the hacker collective LulzSec has promised to "destroy" those responsible for the hack.

The cyber attack on Sega
Sega has confirmed that in a recent cyber attack on its systems, hackers were able to steal the personal data of 1.29 million Sega customers.
The attack reportedly happened last Friday and targeted the company's Sega Pass database. The attack gave hackers Sega Pass member's email addresses and dates of birth.
In its subsequent statement Sega representatives promised fans that the attack had not compromised any financial data. The company went on to clarify that all its customers bank and billing information was still secure.
"Please note that no personal payment information was stored by SEGA as we use external payment providers, meaning your payment details were not at risk from this intrusion", read the email sent to affected customers.
There is as yet no estimated time or date when Sega Pass would be fully functional again.
The attack is the latest in a growing trend, seeing Sega join the already large club of hacked games companies. To date Sony, Nintendo, Codemasters, Square Enix, Bethesda Softworks and Bioware have all reported similar attacks.
LulzSec's promise
Since the attack was announced suspicion fell on the hacker collective LulzSec -- which has previously been responsible for several of the attacks against the games industry. But, bizarrely rather than boast or laugh at Sega's misfortune, LulzSec has voiced support for Sega, offering to, "destroy the hackers".
A tweet posted on its Twitter page addressed Sega reading, "@Sega - contact us. We want to help you destroy the hackers that attacked you. We love the Dreamcast, these people are going down."
The tweet isn't the first time LulzSec has professed its love for Sega's old Dreamcast console.
When Sony's PlayStation Vita and Nintendo's new Wii U consoles were unveiled at this year's E3, the collective posted a tweetpic of the Dreamcast's old memory card describing it as the "ultimate" form of dual-screen gaming.
Whether the group will actually make good on its promise remains to be seen, though it is worth noting that LulzSec has openly stated that comments made on its Twitter page are not to be taken as official statements.