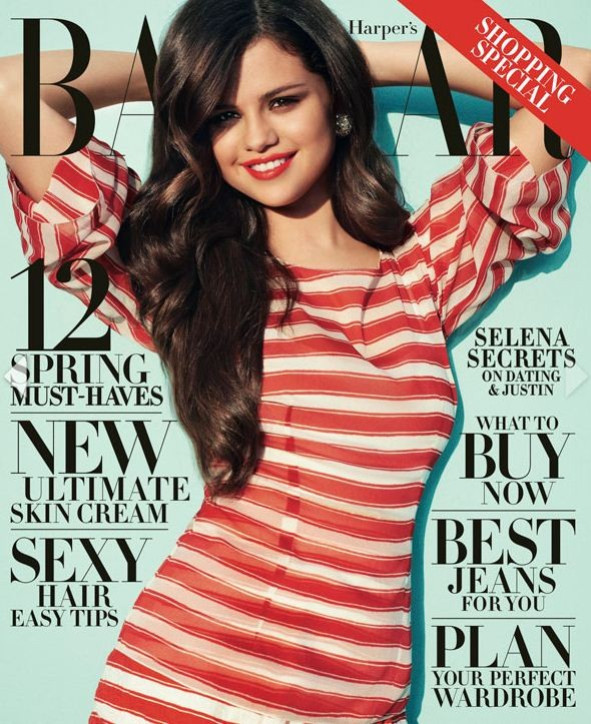 Selena Gomez looked gorgeous as she graced the cover of Harper's Bazaar's April 2013 issue. The 20-year-old singer has a number of outfit changes through the spread, including a white dress from the Calvin Klein Spring collection on the subscriber cover and an orange and white-stripped blouse by Dolce & Gabbana on the newsstand cover. She also talked about her new single life, fashion and casual off-duty style in the accompanying interview.
The Disney star felt that her on-and-off relationship with Canadian pop singer Justin Bieber has been severely scrutinised by the media.
"It was, but that's not a factor for me because unfortunately you can't control that," she said, "To me, love is normal. Of course, you see Jay and Beyoncé and you're like, 'Oh, my gosh, they're perfect for each other,' but at the end of the day their love is just like everybody else's love. They have problems, I'm sure, and they solve them, like anybody else. So to make it as normal as possible-in such an abnormal lifestyle-was super important to both of us. Which was great ... That's how it should be."
Although she went through a tough break-up, she has not stopped believing in love.
"I believe in love-yes, I'm one of those girls. Most of my friends believe in love. I went out with Katy Perry last night. She's so fun and awesome, but it's cool to see someone older believe in love too. She is all about it, and that's how I will always be. I believe in stories like, 'Oh, I met him in Starbucks,'" she added.
Gomez, who was named Woman of the Year by Glamour magazine, said she was least bothered by her looks
"I do not give a damn what I look like, I don't," she said, "I wish I could pay attention because Gwen Stefani, say, looks flawless. Of course, when I'm on red carpets, I'm nervous, sweaty, and weird."
The April issue of Harper's Bazaar hits newsstands on 19 March.