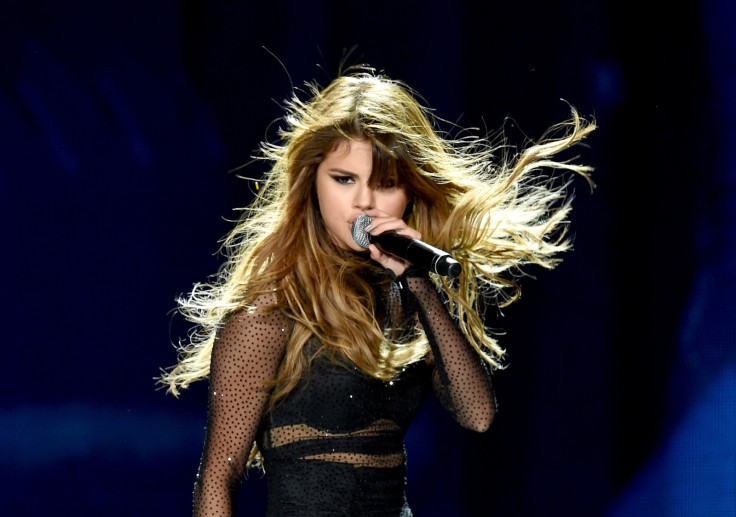 Selena Gomez is taking the world by storm as she performs at her hit Revival concert at international locations. After an emotional performance in Indonesia during her birthday week, Gomez landed in Kuala Lumpur, Malaysia. Interestingly, the 24-year-old songstress sported a brand new hairstyle – wild locks that grazed her shoulder.
"KL, from the car," the songstress wrote sharing a photo of her new hairstyle on Instagram. Her bob-styled hair and the choppy bangs were curled into waves with a sun-kissed effect.
The Hands To Myself singer is known to experiment with her looks, and this time she donned the rock-star look with blue denim jacket and oval glasses.
In another picture, the pop star was seen dressed in black from tip to toe as she walked down the backstage corridor flaunting supermodel vibes.
Photo number 3 featured Gomez in high spirits as she chuckled with her friends on stage. This surely comes as a relief to fans of the Heart Wants What It Wants hit-maker, as she had them worried with a bizarre Instagram post right after her 24th birthday.
"Tonight I felt extremely unauthentic, unconnected to both my myself and my music. I've never really felt like my materials, wardrobe or a video could define me," she wrote earlier adding, "I act on a moment and fear something that hasn't happened. I'm stagnant, I stay still and don't just sit with myself first and ask, 'Is this where I am, wholeheartedly?"
"I've always told the truth. I'm always true to my word, I've shown who I am but I need to rethink some areas of my life creatively and personally. Had to get that out," she explained.
However, the heartbreaking post was deleted from the singer's Instagram account.