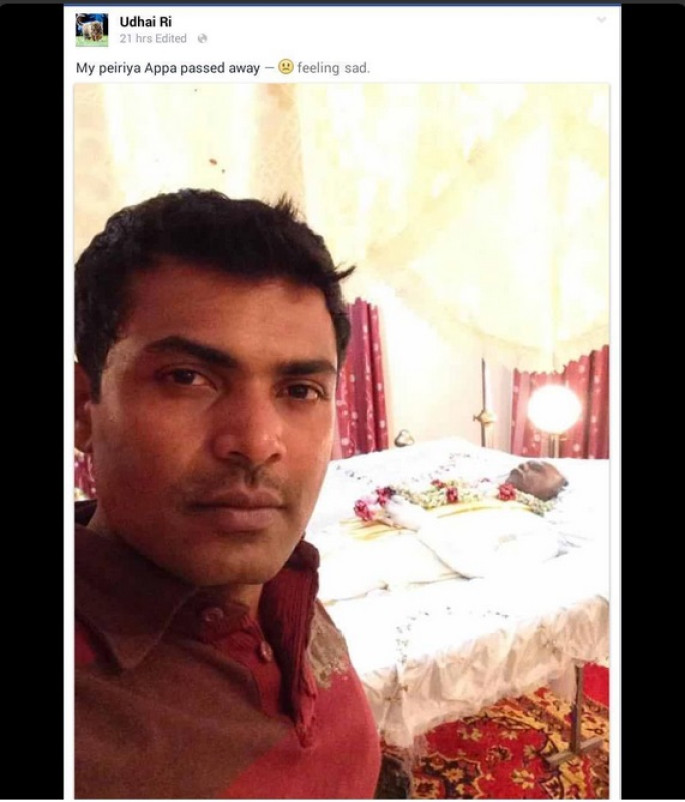 A Sri Lankan took the selfie fever to a whole new level when he posted his picture with his dead uncle's body in the background on his social networking site.
The picture caption read: "My peiriya appa (uncle) passed away". However, his controversial selfie found its way to Reddit and went viral soon after.
Some found the post insensitive and crazy and many others tagged the picture as disrespectful and even creepy.
As if the post itself wasn't bizarre enough, one Reddit user pointed out that the post was liked by 109 people.
The picture, however, reminds of an infamous, yet comic scene in Hangover III, in which Alan takes a selfie next to his father's framed memorial photo at the funeral.
The man in the picture has apparently taken down his profile from Facebook after drawing flak from social network users.
Here are some Twitter reactions.
This is not the first instance of a selfie courting controversy.
When US President Barack Obama posed for a picture at Nelson Mandela's memorial service in Johannesburg along with Prime Minister Helle Thorning Schmidt of Denmark and British Prime Minister David Cameron, their funeral selfie came in for much criticism.
A boyfriend's creepy selfie with his 'dead girlfriend' had also gone viral on the internet in September last year and soundly attacked by users of social media.
The self-taken picture has become such a fad that the City Literature College in London offers a special course called The Art of Self Portraiture, on how to take the perfect selfie.