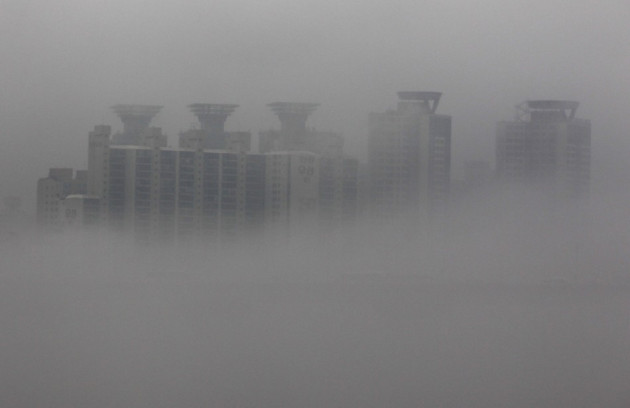 A helicopter has crashed, killing two pilots after its blades clipped a high-rise luxury apartment block in Seoul, South Korea.
The LG Electronics Inc owned aircraft had just taken off from an airport in the western part of the city when it hit the 38-storey I-Park building in the south eastern Gangnam district, fire official Cha Yang-oh told reporters.
Cha said 57-year-old captain Park In-kyu was killed. A 36-year-old vice-captain, Koh Jong-jin, survived the crash, but died later in a hospital. LG said the two were company employees.
No one in the building was hurt, and all residents were evacuated after the accident. Windows were smashed and a section of wall damaged between the 21st and the 27th floors.
All that remained of the burnt-out helicopter was a section of the tail on the ground below.
"It seemed that the helicopter lost visibility due to the thick fog," an official at the National Emergency Management Agency told Korea's Yonhap News.
The aircraft was on its way to a landing field to pick up two company employees before heading to the south of the country.
The city's mayor announced that extra legislation would be introduced to prevent similar accidents in the future.
"This kind of accident should not take place any more in a city where high-rise buildings densely stand," Seoul Mayor Park Won-soon told reporters. "The Seoul City government plans to craft out measures to prevent recurrences of such accident."
Officials said the black box flight recorder had been recovered from the helicopter and would be analysed to identify the cause of the accident.
Watch video of the aftermath of the crash, on YouTube, below: