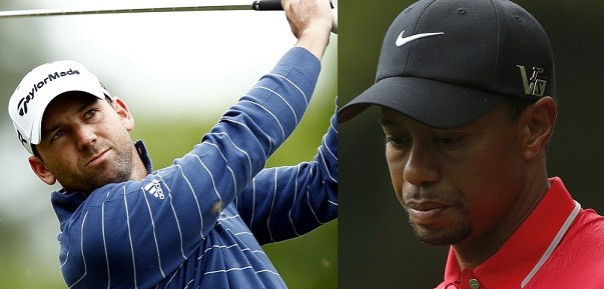 Golfer Sergio Garica has apologised for the 'fried chicken' remarks he made about long-running rival Tiger Woods, which many have interpreted as a racist slur.
Speaking at the European Tour's Players' Awards dinner, the Spaniard was asked by Golf Channel's Steve Sands about his row with Woods, which recently escalated when Garcia accused the current world number one of gamesmanship.
When asked if he would be having Woods round for dinner during the upcoming US Open, Garcia replied: "We will have him round every night...we will serve fried chicken."
Garcia later issued a statement through the European Tour, saying: "I apologise for any offence that may have been caused by my comment on stage during The European Tour Players' Awards dinner.
"I answered a question that was clearly made towards me as a joke with a silly remark, but in no way was the comment meant in a racist manner."
The comment echoed a remark made by Fuzzy Zoeller towards Woods in 1997.
After Woods won the Masters that year, entitling him to choose the champions' dinner menu the following year, Zoeller said: "You pat him on the back and say congratulations and enjoy it and tell him not to serve fried chicken next year. Got it? Or collard greens or whatever the hell they serve."
Zoeller later apologised for the comment, adding it had been misconstrued.
Garcia's latest comment will only have exacerbated his feud with Woods, which was previously demonstrated when Garcia gave a resounding "no" when asked by reporters if he would be willing to clear the air.
The row erupted during the third round of the Players Championship, when Garcia felt Woods disturbed his play as the Spaniard was about to play an approach shot.
When asked about his bitter relationship with Woods, which can be traced back as as far as 1999, Garcia said: "He's not my favourite guy to play with.
"He's not the nicest guy on Tour. We don't like each other. It doesn't take a rocket engineer to figure that out. He is who he is. I am who I am. It's best we're not playing together again.
"I mean, you can't like everybody. I think that there's people that you connect with and there's people that you don't. You know, it's pretty much as simple as that.
"I think that he doesn't need me in his life, I don't need him in mine, and let's move on and keep doing what we're doing."