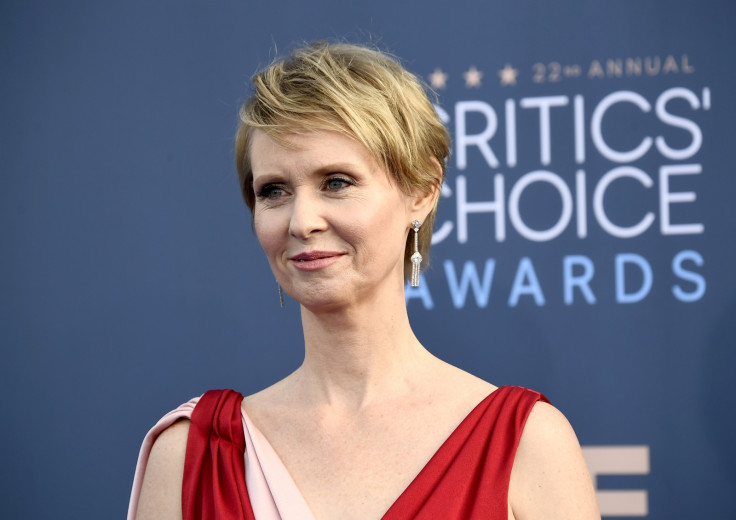 Despite coming out as bisexual in 2004, Sex And the City star Cynthia Nixon has revealed that her wife Christine Marinoni was initially worried about her inexperience with women. Opening up about the early days of their romance, the actress – who played career-driven lawyer Miranda Hobbs on the HBO series and two film specials – has admitted that her wife of five years was the first woman she kissed.
She told Radio Times: "I had never dated a woman before or even kissed a woman or anything, and so when we started seeing each other, Christine kept waiting for the other shoe to drop, for me to panic about what this would mean – to my career or to myself – as if somehow I just hadn't noticed that she was a woman."
According to Nixon, she was able to reassure education activist Marinoni by introducing her to her mother, which "she stopped worrying about it".
The flame-haired actress dated photographer Danny Mozes from 1988 to 2003. The former couple spawned daughter Samantha, 20, and son Charles, 14.
Following her split from Mozes, she started dating Marinoni and the pair eventually tied the knot in 2012. They welcome their son Max in 2011.
Nixon, who previously described her wife as "like a short man with boobs" also revealed that the term 'wife' didn't sit well with her other half.
"She protested a lot at the beginning and wanted a more gender-neutral term, like 'my spouse'. I said: 'You think I'm doing that, you're crazy!'"
Nixon, who can next be seen playing Emily Dickinson in A Quiet Passion, also criticised Sex And The City for pressuring women. "I wish that women would understand – or understand more – that it's a fictional TV show," she said of the phenomenon that also starred Sarah Jessica Parker, Kim Cattrall and Kristin Davis. "No one should be expected to walk around looking like that in life – other than on the red carpet."