China: Sex game horror as live eel slithers up man's anus and into his guts
The man was saved from further harm, but now he faces a police probe.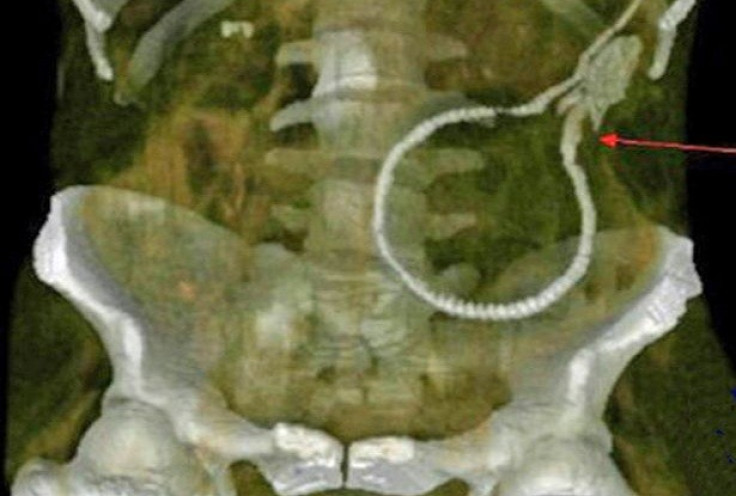 Images taken in a Chinese hospital show a live eel slithering inside a man's guts after he shoved it up his rear-end in a porn-inspired sex act.
Doctors in Southern China got a shock when the man turned up at their hospital begging for help. The 39-year-old, from Shunde in Guangdong, had a 20 inch-long Asian swamp eel inside him.
By the time the man reached help, the creature - weighing half a kilo - was writhing its way through his internal organs, using a mouthful of razor-sharp teeth to cling onto intestinal walls.
After entering via the anus, the fish perforated the man's colon and caused massive internal bleeding.
The doctors eventually removed the creature by using lengthy medical probes - which was probably closer to the effect the man was seeking when he came upon the eel.
The eel was dropped in to a bowl after being retrieved from the man's anus. Although it was still breathing, it died shortly afterwards.
A hospital spokesman said: "The eel was simply trying to find its way out. It was still alive when we got it out but it died soon afterwards, which was probably a mercy."
It is reported the man was drunk when he inserted the eel, and was inspired by watching bizarre pornography. However it is not clear how he acquired the eel, or whether anyone else was involved.
"This was a particularly idiotic stunt and could have caused him a serious injury. Eels have small but very sharp teeth," the hospital spokesman continued.
The man was saved from further harm, but now he faces a police probe.
A police spokesman said: "We are aware of what happened and a 39-year-old man will be interviewed over alleged animal cruelty."
© Copyright IBTimes 2023. All rights reserved.