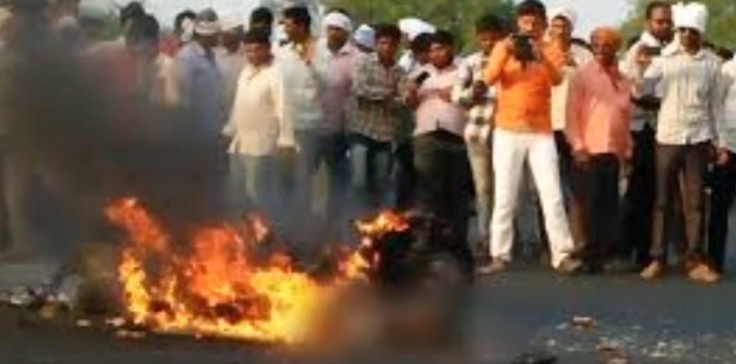 A shocking video has emerged showing a biker on fire on a highway in India and a crowd of onlookers recording the horrific sight on their mobile phones instead of trying to save the man. Other vehicles are seen passing by without halting or pulling over to offer help.
Police said the video was recorded on Thursday (11 May) on a highway in Beed district in the western Indian state of Maharashtra. The city is about eight hours by road from Mumbai, the state capital. It was not immediately clear at what time the accident happened.
The bike rider, who has not yet been identified, reportedly collided head-on with another bike on the highway. The bike fell over him and caught fire. Police suspect the man became unconscious following the collision and therefore could not attempt to escape from the flames. The other biker survived the accident with some injuries and was being treated at a nearby hospital.
Police are investigating to see if either of the bikers involved in the accident was carrying any flammable material, such as alcohol bottles, that may have fuelled the blaze.
No one from the crowd that gathered around the accident site stepped up to pull the man out of the burning wreckage. The video that was showed by NDTV is thought to have been shot by one of them.
"We are yet to establish who the victim is," senior police officer G Sreedhar told NDTV on Friday.
"Since the number plates on the bike were burnt, we are unable to get details about the victim. All we could tell from the plates was that the bike was registered in Parbhani [a nearby town]. We have given the plate to the Regional Transport Office, which can give us details," Sreedhar added.