A smartphone app that detects skin cancer through an algorithm linked to the device's camera is now as accurate as the average dermatologist in detecting melanoma cancer, according to its creators.
SkinVision revealed to IBTimes UK that a new release of its app with broadened capabilities will be rolled out within a few weeks for both Apple iOS and Android devices, which will also expand its functionality to detect other types of skin diseases.
Dick Uyttewaal, CEO of SkinVision, claims that the technology behind the app has advanced to such a point that it now brings "the average eye of a dermatologist" to a smartphone.
"Within the next release we will offer our users the existing automated camera for early detection of melanoma, as well as a new function to enable our users to take pictures and track changes over time of other skin diseases," said Uyttewaal.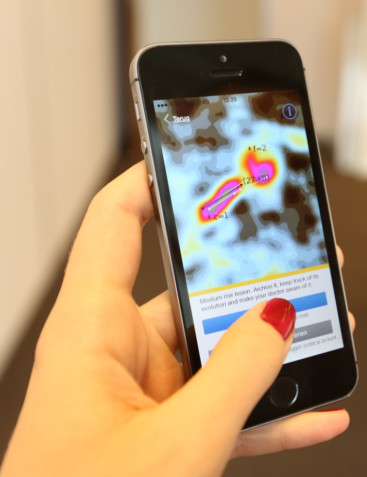 "Beyond this launch, the next step is to broaden the advanced camera for melanoma to other types of non melanoma skin cancer, incidences of which are 10 times higher."
SkinVision was the first skin cancer app to be CE marked for usage in the EU following clinical tests in the Ludwig-Maximilians-Universitat Clinic in Germany.
A study published in the Journal of the European Academy of Dermatology and Venereology in 2013 found that the app was 81% accurate in detecting melanoma, which is more accurate than a GP's assessment but still falls short of a clinical diagnosis from a dermatologist.
"With an accuracy of 81% in detecting melanoma, the algorithm might have some potential in the future for the evaluation of melanocytic nevi, but is to date insufficient to detect melanoma accurately," the researchers noted.
Despite the advanced accuracy of the latest version, Uyttewaal believes the SkinVision app should still be used as an early detection method for consumers and complementary to existing medical detection methods, rather than a replacement.
"The issue with medical studies is that technology is fixed before the study starts and the study took one year with the publication going live in 2014," Uyttewaal said. "In contrast in the app development sector a lot of change happens in two and a half years and the world is completely different.
"But we don't want to replace GPs. We want the app to bring people into the healthcare system who otherwise might not be. There is a risk of false positives or false negatives — though none have been reported yet — so the online assessment is part of a wider journey for the customer."