Smart egg-shaped kitchen assistant helps plan meals, order ingredients and show you how to cook them
The device can also 'keep a lively conversation going by expressing itself through looks and winks'.
Ever wanted an assistant to help you out with your daily kitchen routine? Tech startup RnD64 unveiled its Eggspert app and an adorable little egg-shaped smart device called Hello Egg at CES 2017 in Las Vegas this week, dubbing it "the first smart assistant designed especially for the kitchen".
Using the web and mobile app Eggspert, the Hello Egg device can help automate daily kitchen errands from planning your weekly meals as per your dietary preferences to ordering your groceries.
The eight-inch high voice-operated egg assistant includes an internal projection screen and a personality to go with it that allows it to offer users simple, step-by-step voice-navigated video recipes. Using AI and a support team of cooking experts, the gadget can also answer any specific cooking related queries you may have in real-time, besides monitoring your pantry and supply of ingredients, organising your grocery list and ordering the ingredients needed for your next meal.
The device can also "keep a lively conversation going by expressing itself through looks and winks", read you the news, provide weather forecasts, set multiple voice-activated timers and reminders, and stream music while you whip up some delicious grub.
"Hello Egg is reintroducing home cooking to the modern millennial's life by making meal planning, ingredient delivery and cooking assistance smart and flexible," the startup said.
"The initial tests of Hello Egg went significantly well and the feedback we received after the product announcement has confirmed the need for a dedicated smart cooking assistant," Dmytro Shemet, CEO of RnD64, said in a statement. "With Eggspert, we apply AI not only to facilitate the user's kitchen experience but also to analyse their nutritional needs and optimise their cooking process on every level."
The smart gizmo is one of a string of new IoT devices and smart assistants related to food and the culinary industry to help streamline and automate users' households.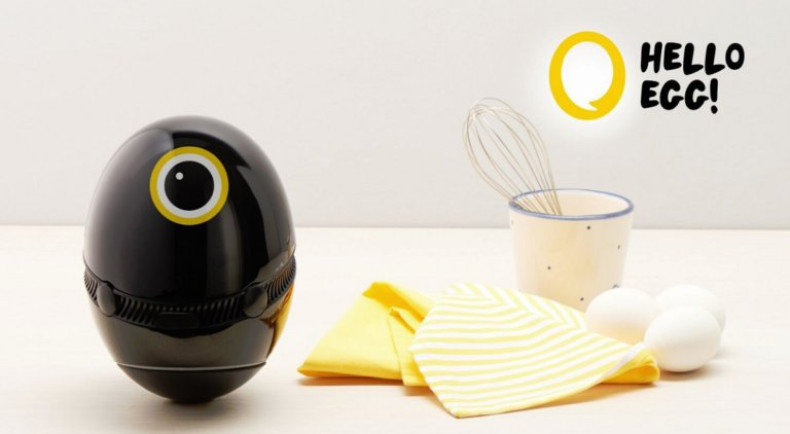 Other interesting IoT devices showcased at CES 2017 included FridgeCam, a refrigerator camera by London-based firm Smarter that alerts users when their food is about to expire or if they are running low on produce.
Meanwhile, LG's new Smart InstaView Door-in-Door refrigerator which features a 29-inch LCD display, webOS and integration with Amazon's Alexa assistant, can look up recipes, play music, tell you the weather and help you keep track of food expiration dates. Samsung also added "advanced voice technology" to its own Family Hub 2.0 smart fridge, allowing users to talk to their refrigerator.
Hello Egg is currently available for pre-order and will begin shipping in February.