LG at CES 2017: Razor-thin OLED TVs with Dolby Atmos, Amazon Alexa-powered smart fridges and more
Everything you need to know and all the new products from LG's CES 2017 conference.
LG ushered in the second day of conferences at CES 2017 in Las Vegas, focusing on three tech pillars all under the umbrella of a simple mantra: "Innovation for a better life". With its mid-range smartphones and audio offerings announced prior to the live showcase, LG focused on its three new robots, its expanding range of smart home appliances, and its evolving TV range.
While the South Korean company's CEO, Dr Skott Ahn, kicked off with a buzzword bonanza - name-dropping the Internet of Things (IoT), deep learning AI and cloud tech within the first five minutes - LG mercifully focused on its commerical products of tomorrow rather than the minutiae of its new webOS 3.5 system.
First up, let's talk TVs.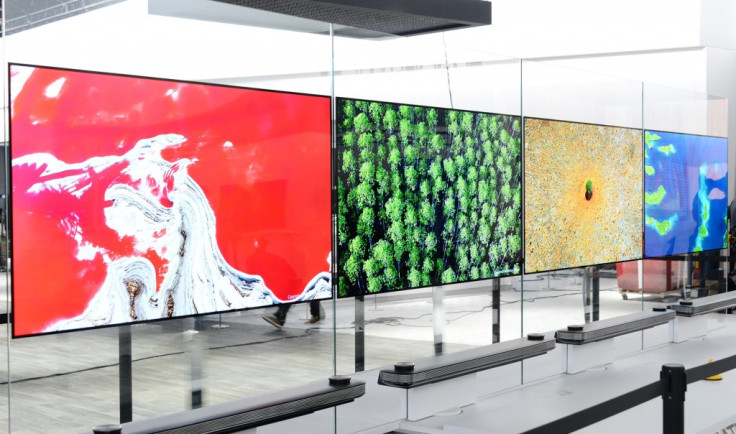 CES 2017: LG TVs
In true Apple fashion, LG saved its big reveal for last: a new W-range OLED television that takes the definition of a flatscreen set and makes it, well, flatter.
The razor-thin 'W7' TV comes in at a thickness of just 2.57mm, which LG claims sits so close to the wall that it creates a "picture on wall" experience. The freakishly thin TV also supports Dolby Atmos and LG's 'Active HDR' tech.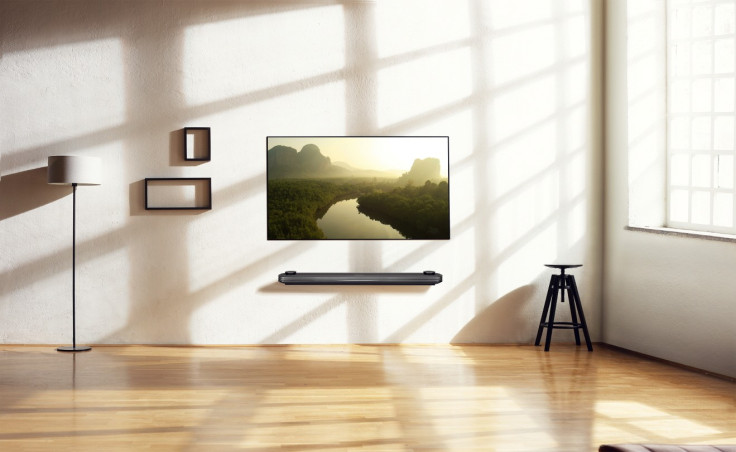 Available in both 77in and 65in variants, LG later said in a press release that the W7 "builds on LG OLED's revolutionary pixel dimming control technology, which renders perfect black without any light leakage to offer a limitless contrast ratio, and over one billion possible colors."
What does the 'W' stand for? 'Wallpaper, window and wow,' explained Marketing vice president, David WanderWaahl. Okay then.
Elsewhere on the TV front, LG also talked up its 2017 line-up of LCD TVs – complete with "nanocell" technology for more "accurate and intense" colours and improved viewing angles – and unveiled the rest of its OLED range, each supporting the latest webOS update.
No word on pricing for the W7 just yet, but we imagine it'll be eye-watering to say the least.
CES 2017: LG Smart Home Appliances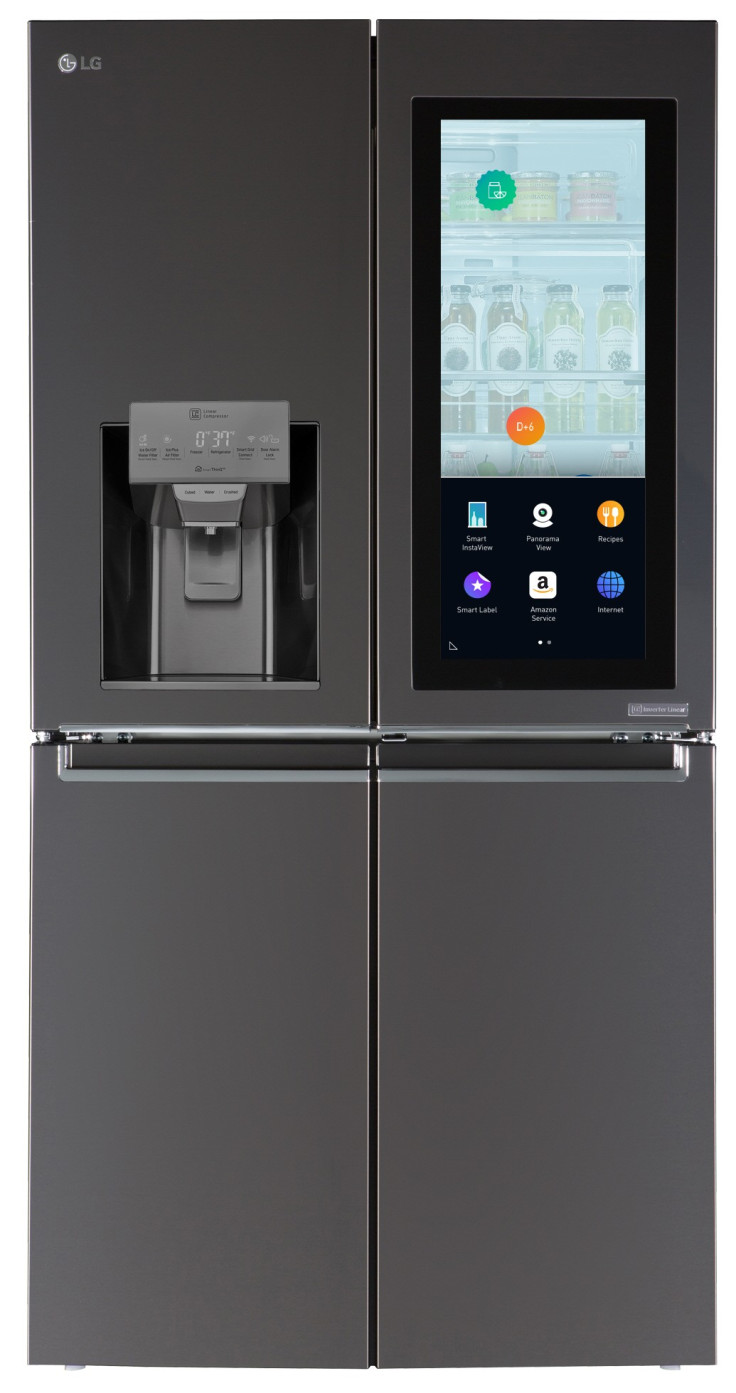 LG's answer to the Samsung Family Hub, the Smart Instaview Door-In-Door Refrigerator
LG
LG has been pushing its smart home appliance range for a while, with everything from washing machines ("we're making our washers the smartest on the planet") to air-conditioners mentioned at the CES show. Taking centre stage, however, was LG's Smart Instaview Door-In-Door Refrigerator – the company's direct competitor to Samsung's Family Hub fridges.
The monolithic fridge-freezer comes with a 29in touch LCD display powered by webOS (of course), which allows the user to take a peek inside with a super-wide-lens camera (also viewable via a smartphone on the move), tag products inside, register expiry dates, set memos, play music or stream video, and even produce creepy birthday messages, all through home Wi-Fi.
LG seems to believe its killer app, however, is its support for Amazon's Alexa Voice Service – a feature that is quickly becoming ubiquitous at CES 2017. Much of the smart fridges' functionality can be controlled, hands-free with Alexa commands, including Prime-eligible orders for essential snack refills such as "celeries".
As with the W7 TV, pricing and availability is yet to be announced.
CES 2017: Robots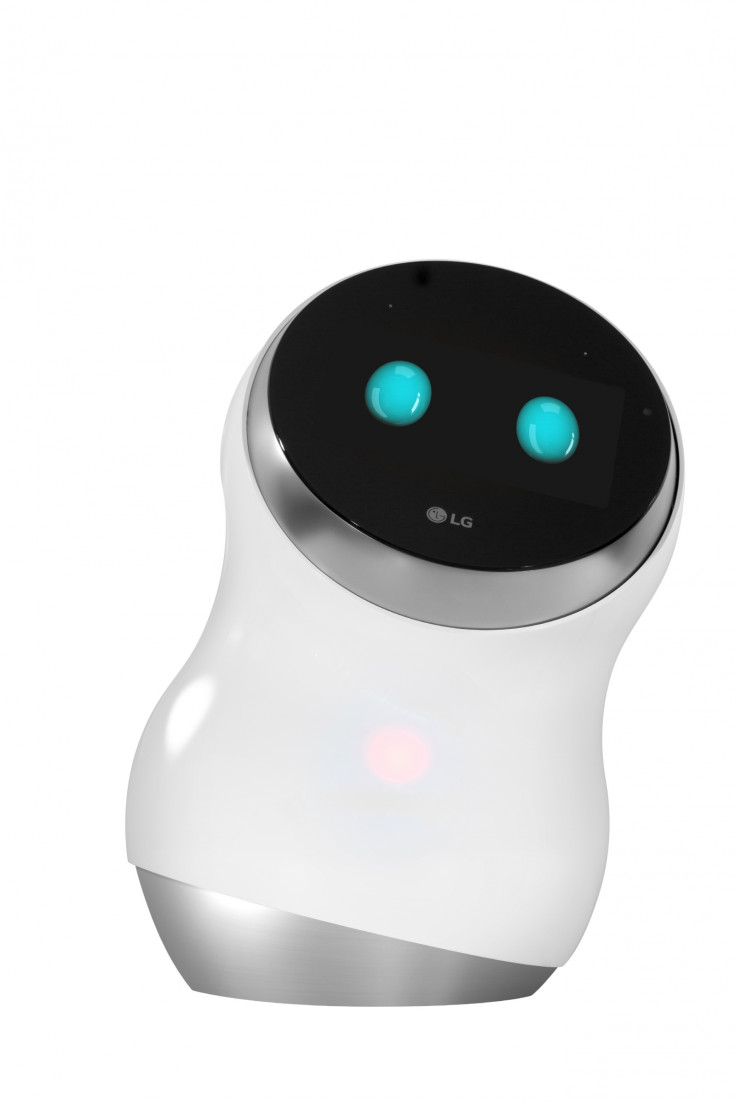 The LG Hub Robot.
LG
Finally, LG also introduced three robots – two for help around the home and one for commercial use in airports.
Of the three, the Hub Robot took the prize for the most adorable of the bunch, functioning like an Echo-style by way of Pixar's Wall-E. The Hub Robot and its miniature buddy can play music like a usual smart speaker, as well as listen to voice commands and relay tasks to other IoT LG devices – such as the aforementioned fridge – including one of LG's other new robo-assistants, the LG Robo Mower. Yes, it's a robot that cuts the lawn for you.
The weirdest of the bunch though, was definitely the Airbot, which will makes its debut in South Korea's Incheon airport in 2017. LG noted that the robot can "provide detailed information about a flight's boarding time and gate location, and even the weather of a traveler's destination city," in four languages: English, Chinese, Japanese and Korean. It has also been designed to escort wayward travellers who have spent too much time dilly-dallying in the duty-free area.
Sticking to a trend, pricing and availability for the Hub and Mower robots were unavailable at time of writing.
What do you think of LG's CES 2017 offering? Let us know at @IBTimesUKTech.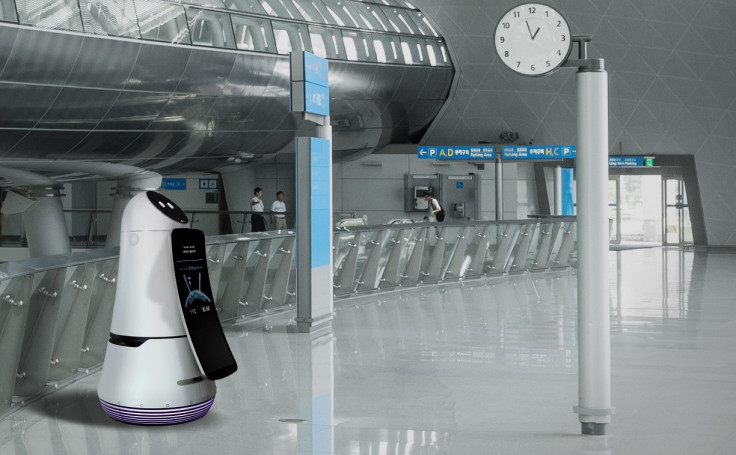 © Copyright IBTimes 2023. All rights reserved.