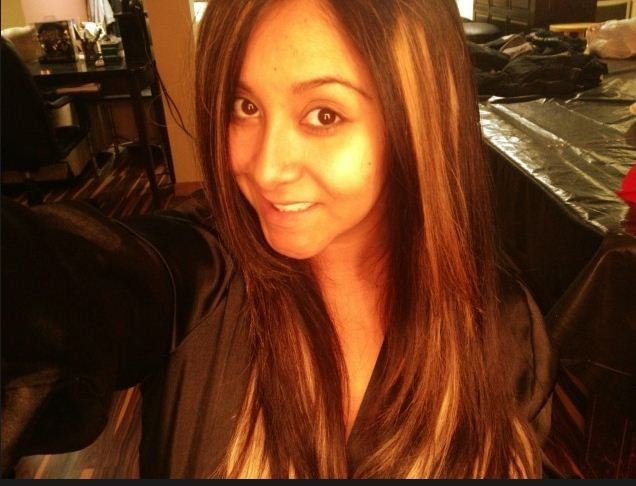 Jersey Shore star Nicole "Snooki" Polizzi has a reputation for being rather extravagant with her make-up. This time, though, she presented a very different picture. The reality show star posted a photograph of herself without make-up... without her trademark layers of bronzer, fake eyelashes and a permanent smoky eye look.
"My clean canvas before I get artistic," she tweeted. The star, who is pregnant with her first child with fiancé Jionni LaVelle, looked radiant and bore the trademark pregnancy glow and the photograph received several supportive replies from her fans.
This isn't the first time that Snooki has tweeted a make-up free photograph of herself. In January, the 24 year old posted one of herself with the caption: "No make-up day and IDC."
Photographs aside, Snooki has been very vocal about her pregnancy, constantly posting updates on the social networking Web site.
"I was praying to go thru this pregnancy w/ no stretch marks & KEWL there starting to come! Moisturizing my tummy like crazy!!!" Snooki tweeted. That tweet was followed by several replies on how to tackle the marks, ranging from secret products like Bio-Oil and Mederma to drinking extra water. One fan, though, said she should accept the changes to her body.
"They're not stretch marks, they're tiger stripes," which she retweeted, saying, "Oh I love this."
Snooki recently finished filming the sixth and final season of MTV's long-running reality show Jersey Shore. However, this is not the end for the mother-to-be - she is on yet another reality show - Snooki and JWoww - alongside best friend Jennifer Farley.
In the latest episode of the show, the cast of Jersey Shore came over for a dinner party organised by the girls and she announced her engagement to boyfriend LaVille. The reaction was not very pleasant though - there was speculation she had bought the ring herself and some commented LaVille had nothing more than a one-night stand. One of her former lovers, Vinny Guadagnino, commented the couple would not stay together for long time.