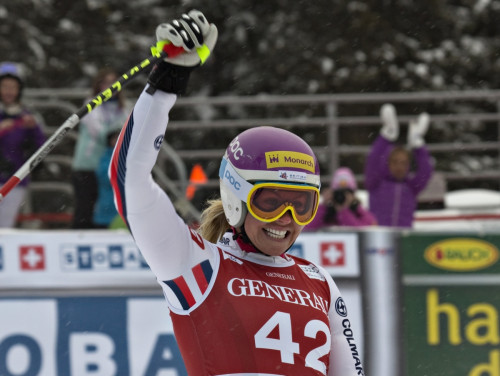 Chemmy Alcott has been selected as part of Team GB's Winter Olympic Games squad despite being unable to demonstrate her fitness after breaking her leg for a third time in August.
Alcott will be part Great Britain's biggest ever squad since the Calgary games in 1988 as 56 athletes, a record number of which include skiers and snowboarders, head for Sochi.
Funding body UK Sport hope for at least three medals to be won in Russia, tripling the success of Amy Williams who picked up gold in the skelton and Britain's only medal at Vancouver 2010.
Alcott, 31, one of only two Alpine skiers selected for the squad, is grateful to have been given a chance to represent in her fourth games but has not yet proven whether she is fit for the challenge since returning to full training in December.
"I am so excited and thankful to have been named in today's fantastically strong and competitive Team GB for next month's Winter Olympics," she said.
"Since Vancouver I have done everything I could have done to be in Russia. Preparations were far from ideal but with my self-belief, confidence and support I can't wait to get into that Olympic start gate."
Alcott's selection alongside slalom skier Dave Ryding means Britain's No. 1 downhill skier Dougie Crawford will not feature.
"Team GB hasn't taken a bigger contingent of skiers and snowboarders to an Olympic Winter Games for over two decades - since 1992 - so it is great to now have 19 of them heading out to Sochi with us shortly," said Team GB Chef de Mission Mike Hay.
"What makes it even more exciting is the fact that we are going into Sochi with a number of athletes with medal potential in events new to the Olympic Programme."
The Sochi Games begin on 7 February with the alpine skiing starting two days later.