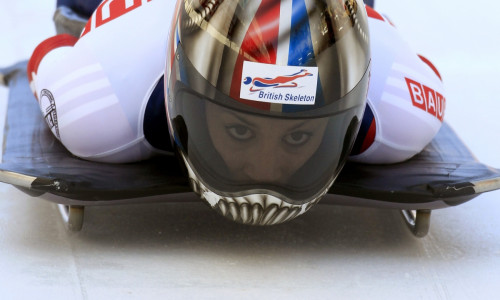 Chemmy Alcott - Women's Alpine Skiing
Three-time winter Olympian Chemmy Alcott has been included in the Team GB squad for the Sochi games despite being unable to demonstrate her fitness after breaking her leg for a third time in August.
Alcott will join David Ryding to make up Team GB's alpine duo and will compete in this, her fourth consecutive games, after finishing well in 11th place at both Turin and Vancouver in the Downhill and Super Combined respectively.
The 31-year-old, who has been skiing since she could walk, is currently ranked in the top 30 in the world for Super G, Giant Slalom and Combined despite a horrifying accident which broke her leg in Lake Louise back in 2010, an injury she would repeat twice more leading up to Sochi.
Alcott has broken no less than 42 bones- including her neck – but will put thoughts of those sickening injuries to the back of her mind as she competes with a 15-inch metal spike screwed through the bone marrow of her right leg.
Elise Christie - Women's Short Track Speed Skating
Having enjoyed a remarkable 2013, 23-year-old short speed skater Elise Christie remains one of Great Britain's brightest hopes for gold medal success in Sochi. The Scottish born skater enters the Games fresh from retaining her European 1000 meters in Dresden last month and claiming the individual 1000m World Cup title during the 2012/13 season, which included World and European championship medals.
Appearing in her second Games, she is hoping to improve on her best finish of ninth in the 500m in Vancouver four years ago. Back then, her excursion was more about the experience of participating in an Olympic event, but now she arrives as an ominous threat to the favourites of the short track speed event with the intention of becoming Britain's first ever gold medallist in the sport.
But her participation in February's games was thrown in doubt just a few months ago. Last November Christie crashed heavily in a World Cup race after a rival's skate cut into her leg in a potentially career threatening three-way crash. The Scot managed to escape with a broken leg but doubts of her fitness remained, albeit very briefly, as she returned to claim a bronze medal despite her Olympic hopes nearly being dashed just weeks before.
Christie's hopes of gold medal success were boosted after China's reigning 1000m champion Wang Meng was left out of her country's travelling team after breaking her ankle in training in January.
Jenny Jones - Women's Freestyle Snowboarding
Slopestyle specialist Jenny Jones will be in freestyle action on 6 February, one day ahead of the opening ceremony in Sochi.
Jones is a serious medal contender at Sochi 2014 and three-time Winter X Games gold medal winner, the first UK athlete ever to have taken gold in the competition.
The 33-year-old, a film star and golden girl of snowboarding, will compete in her very first Winter Olympic games thanks to the inclusion of the slopestyle event in the 2014 games.
Jones became a professional snowboarder after just a couple of seasons working as a chalet maid in the French Alp resort of Tignes having first got into snowboarding after a 30-minute lesson at the Avon dryslope.
Billy Morgan - Men's Snowboarding
For slope style snowboarder Billy Morgan, success in Sochi will represent one of the more remarkable feats achieved by British athletes. The 25-year-old snapped his anterior cruciate ligament and medial cruciate ligament in an excruciating injury suffered in September last year as he prepared for the Games.
Such is his determination to meet the UK's target of three medals outlined by UK Sport and to fulfil his own burning ambition; he has delayed his surgery and will compete in Sochi without his ACL.
Things had been progressing nicely for Morgan prior to his injury having finished fourth in the 2013 World Championships and claiming a bronze medal at the World Cup meeting in Sierra Nevada last season, feats that lifted him to second in the world rankings.
And despite last September's setback, he maintains an engaging approach to the Games and is confident his decision to delay surgery will elicit his own extraordinary success story. "It's gone as well as it could so far," Morgan said of his preparation. "My knee is strengthening really quickly. It's feeling stable, doesn't feel foreign anymore."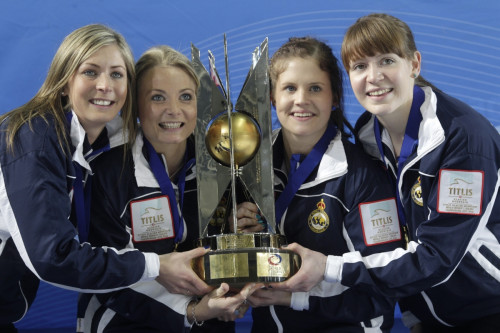 Eve Muirhead - Women's Curling
With Britain's curling tradition at stake, Muirhead leads an all Scottish team in pursuit of a second gold in three Games. The 23 year old is a veteran of the Vancouver Olympics but leads a rookie team in Russia.
Her credentials to spearhead an assault on the podium are undeniable. Gold at the world championships in Riga where she became the youngster competitor to skipper a winning team adds to four world junior titles and a European gold from 2011.
"I love playing under pressure," the Perth born captain said. "That is the part of the game I love doing well at. So many people have asked what were you thinking before that stone – I have no real idea, it was just like another shot to me. I guess that is why we practise four hours every day – for that one key shot."
Taking inspiration from Jessica Ennis' heptathlon gold from the London 2012 summer games, Muirhead is hoping to catapult herself to similar stardom in a sport which has previously captivated a nation.
David Murdoch - Men's Curling
Another of Britain's greatest hopes for a podium spot is David Murdoch, who has designs on following in the steps of Andy Murray in returning to his hometown previously marred by disaster with a gold medal around his neck.
The 25-year-old curler is hoping to meet his lifelong ambition of becoming the first Brit to win an Olympic gold medal in his event since the first Winter Games 90 years ago.
The father of three has spent most of his life in the rink and thus far it has culminated in heart break and near misses at the final stages. Four years ago in Vancouver Murdoch and his team entered the games as world champions but could not replicate their form on the biggest stage. Prior to that in Turin they went even closer, missing out a bronze medal by a matter of inches.
Alongside his rink of Tom Brewster, Greg Drummond, Scott Andrews and Mike Goodfellow, Britain's hopefuls will be hoping to edge out favourites Canada in their challenge for a medal triumph.
Craig Pickering - Men's Bobsleigh
More familiar to us as a warm-weather athlete, Pickering has swapped his vest and shorts for winter wear as he continues his transformation from the Summer Olymypic sprint to Winter Olympic bobsleigh.
The 27-year-old, who was a member of the Britain's 4x100m team at Beijing 2008, took to the mountains and was announced as part of the GB bobsleigh team on 7 December 2012.
Pickering's sprinting ability when transferred to the ice will be the invaluable driving force behind Team GB's bob crew who are thought to be genuine medal contenders and begin their campaign on 16 February.
The Loughborough-based athlete recorded the second-best push-start score during the pre-season selection trial and will join existing brakemen Stuart Benson and Brice Tasker alongside fellow track sprinter Joel Fearon for a place to pilot John Jackson's crew.
Shelley Rudman - Women's Skeleton
Competing in her third Olympic Games Rudman is among the most experience members of Team GB's traveling party to Russia and is the leading contender for gold. With the Turin skeleton silver medallist having played second fiddle to Amy Williams in Vancouver, the 32 year old is now looking to make Sochi her own.
Despite being ranked No.3 in the world, she struck world championship gold last February and in January secured a podium place alongside Lizzy Yarnold at the World Cup in St Moritz. Yarnold is among her strongest competitors for gold, as is American Noelle Pikus-Pace – the five time world championship medallist.
After breaking from the sport to have a daughter following her silver in Turin, nothing has distracted Rudman's route to gold up to 2014 where see seeks to repeat the heroics of Amy Williams, Britain's last winter Olympic champion.
"If I come away with the result, then great but if not, I still want to be smiling and happy," she said. "Lizzy's going for gold while I'm more reserved."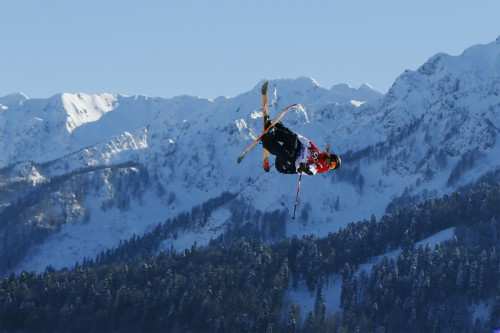 Lizzy Yarnold - Women's Skeleton
World Cup champion Yarnold is another British hope for gold as she begins her campaign on Valentine's Day in Sochi.
The 25-year-old comes into the winter Games 2014 after podium finishes in seven of her eight World Cup races just four years after discovering the sport.
She has since grown in experience after picking up a bronze medal at the 2012 World Championships in Lake Placid to secure her first major result and cement her place in the British skeleton team.
Yarnold, who was talent spotted aged 20 after applying to UK Sport and the EIS Talent ID Campaign 'Girls for gold', will be hoping to continue where former skeleton gold medallist Amy Williams left off.
Williams, a good friend of Yarnold's, was the only medallist in Vancouver 2010 and will remain an inspiration for the Bath-based world No. 1.
James Woods - Men's Freestyle Skiing
The inclusion of the slopestyle event has hugely benefitted Britain and none more so than James Woods. The X Games bronze medallist is considered a major medal prospect in Sochi as freestyle skiing comes to the fore.
Woods has enjoyed a dazzling route to qualifying for Team GB, winning the aforementioned bronze in Aspen after having claimed silver at the freestyle world championships a fortnight previous – just the second British athlete to achieve the feat and first for 20 years.
After starting the World Cup season with a win in New Zealand, he claimed two more wins at the backend of the campaign to head to Sochi as the form athlete in his field and a genuine contender for a medal.
Hailing from the dry slopes of Sheffield, Woods is as laid back as they come on the British team. "Freestyle is a wonderful environment. It's always a party atmosphere," he said. "It's not like other sports. When you get to the start gate, you get the others guys stoked for you, they are your friends. There's a great camaraderie. It's a brotherhood and I hope the Olympics portrays that."