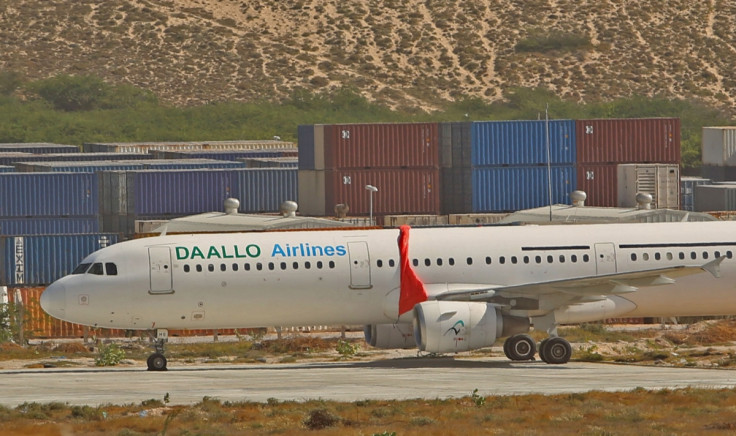 A suicide bomber may have detonated a bomb inside the wheelchair he was travelling on before he was ripped out of a commercial jet in Somalia. On Tuesday 2 February a hole was blown in the side of a Djibouti-bound Airbus A321 forcing the aircraft to make an emergency landing just minutes after taking off from Mogadishu's Aden Adde International Airport.
The blast ejected the alleged bomber from the plane's cabin landing on the ground below. The body of a 55-year-old man was later found near the district of Balad, about 20 miles from the capital.
Police in Mogadishu believe the suspect, by travelling in a wheelchair, may have fooled airport staff into not checking him. Daallo Airlines said that there were two minor casualties in the explosion and the plane was carrying 74 passengers.
Somali officials had identified the man as Abdullahi Abdisalam Borleh, from Somaliland but did not reveal if the man was the alleged suicide bomber. A spokesperson from Somlia's Office of the Prime Minister said in a statement: "Somalia's Deputy Prime Minister Mohamed Omar Arte indicated that as soon as the investigation is concluded, he promised the government will step up airport security against any potential threat."
The Wall Street Journal quoted a Western diplomat, who said: "An individual got onto the plane in a wheelchair and is suspected of being the suicide bomber". The Somalia-based al-Shaabab terrorist group is thought to be responsible for the incident.
Al-Shabaab, which means "The Youth", is an off-shoot of the Islamic Courts Union – a rival administration to the Transitional Federal Government in Somalia. They aim to overthrow the Western-backed Somali government and impose its own version of Islam in the country.
The war-torn nation has seen increased activities by the jihadists in recent months as they attempt to regain control of lost territories in Somalia. On 21 January the Islamist insurgents attacked a beachfront restaurant killing 20 people on Mogadishu's popular Lido beach.
Somalia has been devastated by civil war since 1991 and the extremists even controlled Mogadishu and the southern region of Somalia from 2006 until 2011, when it was defeated by African Union peacekeepers.