Sony Xperia Z2 Review - Bigger and Better
Key Features:
20.7 megapixel camera
4K video recording
Waterproof design
163g; 8.2mm thick
Price as Reviewed: £599
Sony Xperia Z2 Review
Sony has been making steady progress over the last couple of years as it tries to regain lost ground in the smartphone market.
The basis of this progress has been the Xperia Z range of smartphones. The company launched its Xperia Z1 Compact in February, but is already back with this year's flagship model - the Xperia Z2 - which is hoping to build on the success of the Xperia Z1.
But with the Galaxy S5 and HTC One M8 already on the market, can Sony's angular design, waterproof credentials and top notch camera sway customers in its direction?
---
Xperia Z2: Design
---

It may look a lot like the Xperia Z1, but the Z2 is now slimmer (8.2mm vs 8.5mm), lighter (163g vs 170g) and a little taller (147mm vs 144mm) than last year's model. The edges are also more angular and the phone somehow feels better.
The fully flat OmniBalance design language which is seen across Sony's premium tablet and smartphone products is again apparent and while I like it personally, some may find it a little plain.
The water and dust-proof credentials for the Xperia Z2 remain, but these are no longer unique features with the Galaxy S5 now also featuring boasting these features.
The Xperia Z2 now has only a single flap covering both the SIM card slot and the microUSB port, whereas previously these were under separate flap.
the overall effect of these changes is that the Xperia Z2 looks and feel more refined than the Z1 and stands up against it competition in looks and feel - as well as featuring flawless build quality.
---
Xperia Z2: Screen
---
Sony has decided that a 5in screen is not big enough for its flagship device, and so has increased the size slightly to 5.2in, though it has kept the resolution at 1920 x 1080 meaning the pixel density has dropped slightly from 441 pixels per inch (ppi) to 423ppi.
The difference therefore is negligible.
The screen on the Z1 was a bit of a disappointment with a lack of brightness a big issue, but Sony has paid attention and the screen on the Xperia Z2 is superb, easily matching those on the Galaxy S5 and the HTC One M8.
The screen is bright, crisp and Sony has solved any issues it had with viewing angles. The improvement has been accomplished by using an IPS LCD panel which was lacking on last year's models.
One thing Sony does do better than Samsung is reproducing colour, which on Samsung's Super Amoled displays is over-saturated but here is much more natural thanks to Sony's own Live Colour LED technology.
---
Xperia Z2: Hardware, Performance and Battery Life
---
Looking at performance, the Xperia Z2 uses the latest Qualcomm Snapdragon 801 chipset which has been paired with 3GB of RAM, a combination which makes this a hugely powerful device.
Multitasking, open and closing apps, streaming HD video and playing graphically intense games are work without a problem and despite all this power, we found that the Xperia Z2 easily gives you a full day of battery power.
Reports ahead of launch suggested Sony was having issues with the rear glass cover getting too hot during intense use, but I didn't find this to be a problem during testing.
The phone comes with just 16GB of internal storage (11.5GB of which is available to users), but features a microSD card slot which allows up to 128GB of extra storage.
As well as the usual array of connectivity options, Sony has supported the faster Wi-Fi ac standard which will mean much faster speeds - if you can connect to an ac router of course.
---
Xperia Z2: Camera
---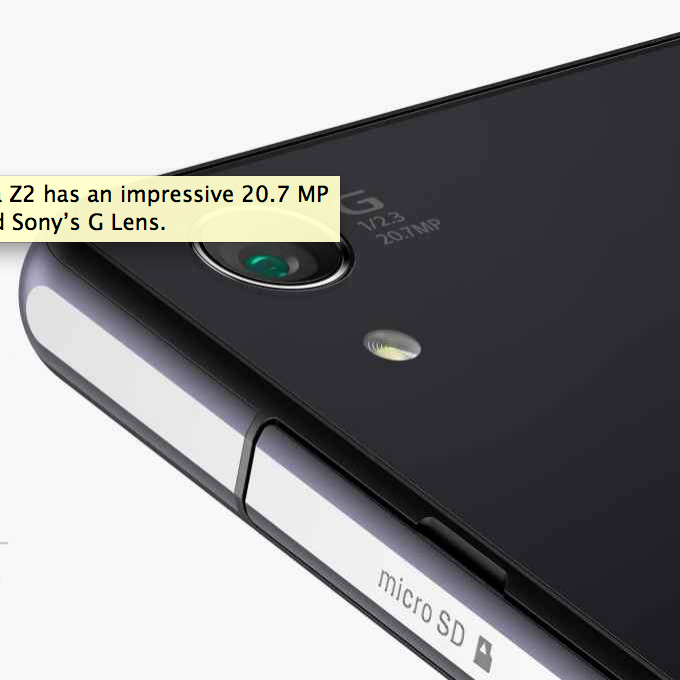 Sony's 20.7 megapixel camera sensor is similar to the one featured on the Xperia Z1 and Xperia Z1 Compact, featuring autofocus, an Exmor RS sensor and LED flash plus touch focus, face detection, image stabilisation, HDR and panorama modes.
This time around Sony has added the ability to record video in 4K, and while the real world uses for this are limited, it is still a huge technical achievement to include this feature on a smartphone.
The Xperia Z2 camera remains one of the best smartphone cameras out there and while it may not quite match up to the Lumia 1020 it is definitely the leader of the Android pack.
The updated camera app also includes the feature-du-jour for smartphone cameras with the Background Defocus mode, which allows you create shallow depth of field shots - however unlike the HTC One M8, you can't add this effect to image post-capture.
It should also be noted that for me the inclusion of a physical shutter button is a huge benefit - giving you quick access to the camera at all times.
---
Xperia Z2: Software
---
Sony's Xperia Z2 comes with the latest version of Google's mobile operating system - Android 4.4. - on top of which Sony has added it's own touches.
However, unlike HTC and Samsung, the additional software layer Sony has put on top of Android is not very intrusive and the apps and widgets which dominate the homescreens when you first turn on the Xperia Z2 can be easily deleted.
The one issue I did have with the interface is with the redesigned settings/notification menu which adds an extra step to get to sub menus which you just don't need.
---
Xperia Z2: Value and Verdict
---

The Xperia Z2 is not a dramatic improvement over last year's model but it shows that Sony is still producing smartphones which are challenging right at the top of the market.
While the large size and hefty £600 price tag may put some off, the excellent screen, the great camera, flawless build quality and fast performance make it a serious challenger to the Samsung Galaxy S5, HTC One M8 and eventually the iPhone 6 when Apple launch it later this year.
Scores:
Screen 9/10 – Excellent
Camera 10/10 – The best smartphone camera out there, bar the Nokia Lumia 1020
Software 8/10 – Sony's additional software is not too intrusive
Design 9/10 – Premium materials combined with a thinner and lighter body
Build quality 9/10 – Still water and dust proof, with a flawless build
Overall 9/10 – A refinement of last year's Z1, making it one of the best smartphone around
The Good:
Great screen
Great camera
Great build quality
The Bad:
Slightly too large
Expensive