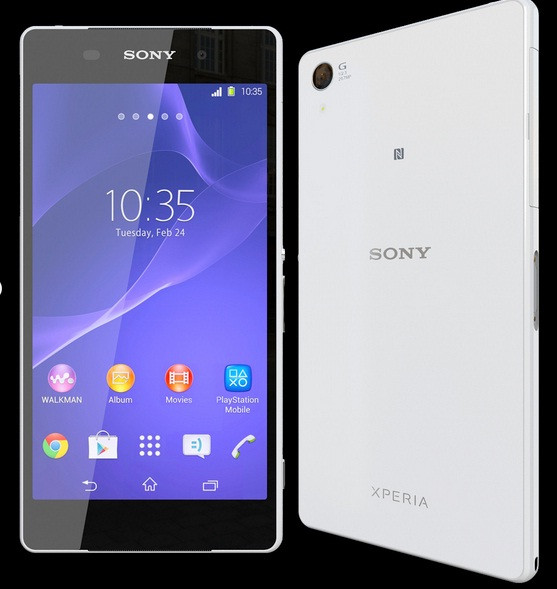 Although it is just three months since Sony announced its new Xperia Z2 at 2014 Mobile World congress, rumour mills are already abuzz with talks about the next Xperia flagship device.
Sony launched the Xperia Z1 in September last year and after a period of six months, the Xperia Z2 was announced in February this year, followed by its market release in April.
Now, according to the latest disclosure, users will get to see the successor to Xperia Z2, dubbed Xperia Z3, in another three months.
This information comes in the courtesy of Chinese site Mobile.it168, which has posted a few screenshots (check photos below) of the purported Xperia Z3.
The photos suggest the new Xperia Z3 will have metal framing.
PVD Coating Technology
The Xperia Z3 will have PVD coating technology, which will give the smartphone mirror stainless steel feature similar to Nokia 8800.
There are various advantages of having PVD coating than conventional paint or, electroplating technology. This includes a more corrosion resistant surface, higher impact resistance and excellent resilience to scratches, explains Gforgames.
PVD coating is also said to be environmental-friendly, although the manufacturing process is slightly difficult.
Xperia Z3 Technical Specifications
As for other technical specifications, the Xperia Z3 will reportedly sport the 1080p display resolution, but will not feature 2K resolution.
It will be powered by Snapdragon 805 chip, which features a quad-core Krait 450 central processing unit, with each cores clocked at 2.7GHz, while paired with Adreno 420 graphics unit. The smartphone will pack 3GB RAM and 20.7 megapixel rear-camera.
If the aforementioned information is to be believed, then Xperia Z3 and Xperia Z2 will have a lot of features in common such as 1080p display, 3GB RAM and 20.7 megapixel camera.
However, the current Xperia Z2 packs quad-core Snapdragon 801 Krait 400 CPU, clocked at 2.3GHz, paired with Adreno 330 graphics unit.
Considering the features, the Xperia Z3 does not seem to bring much upgrades over the Xperia Z2.
Xperia Z3 Launch
The Xperia Z3 is expected to be launched in August this year. There is no much information available about the availability of the device. If the rumour turns out to be true, then the Xperia Z3 will have direct competition with HTC One M8 Prime, Samsung Galaxy S5 Prime and LG G3.
Below are the screenshots of purported Sony Xperia Z3 metal framing.