South Africa: Radovan Krejcir gets 35 years in jail for pouring boiling water over man's head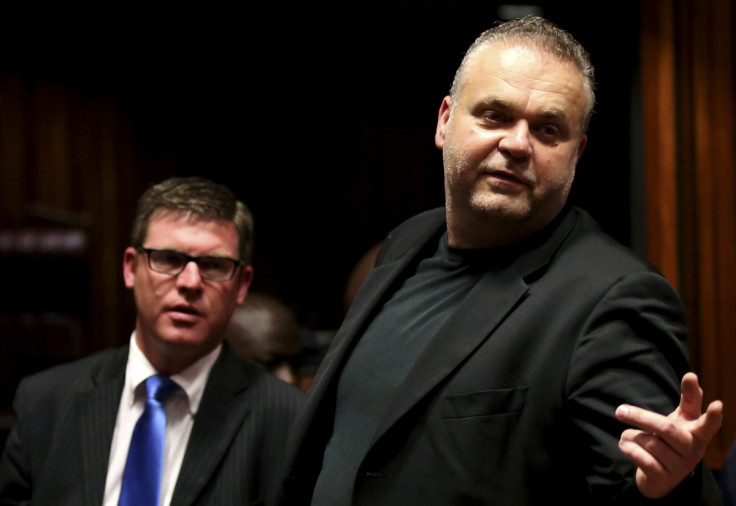 After two years in custody, bomb threats to the court and repeated escape attempts, a Czech 'mafia' boss has finally been sentenced to 35 years imprisonment in South Africa . Self-proclaimed 'businessman' Radovan Krejcir was sentenced after being convicted of kidnap and attempted murder of a man in Johannesburg then pouring boiling water over his head during a botched drug deal in 2013.
The underworld kingpin had to listen to testimony from the victim's brother who said the drug deal pertained to 25kg (55lbs) of crystal meth. Krejcir was supposed to be sentenced on Monday, 22 February, but the court was evacuated following a bomb threat.
Whilst he has been in custody, Krejcir has reportedly tried to escape on a number of occasions. He has been seen playing football with disgraced Paralympian Oscar Pistorius in the Kgosi Mampuru Prison in Pretoria.
The case has been closely monitored in South Africa as Krejceir made international headlines in July 2013 when he survived an elaborate assassination attempt. Guns strategically hidden behind a VW car number plate and operated by remote control opened fire on his black Mercedes. He was unscathed in the attack.
Krejcir had pleaded not guilty during the trial and left the court in shackles after his sentencing. He still faces other criminal charges, including one of murder, after a Lebanese national was found dead.
Krejcir was sentenced to 25 years for drug dealing, 15 years for kidnapping, and 15 years for attempted murder. He said after the hearing that he will be appealing his sentence.
Also standing trial with Krejcir was Desai Luphondo, who was sentenced to 35 years in jail for the shocking assault. In an embarrassing ordeal for police in the country, four members of the elite police unit, the Hawks, were given sentences of 15 years each after the hearing.
He is also wanted in his homeland of the Czech Republic, where he was convicted in absentia in 2014 on tax fraud charges. But he has called South Africa his home since 2007 and he has applied for asylum saying that he will be killed if he is forced to return.
© Copyright IBTimes 2023. All rights reserved.