South Africa Progressive on LGBT Rights but Gays Still Battle for Social Reform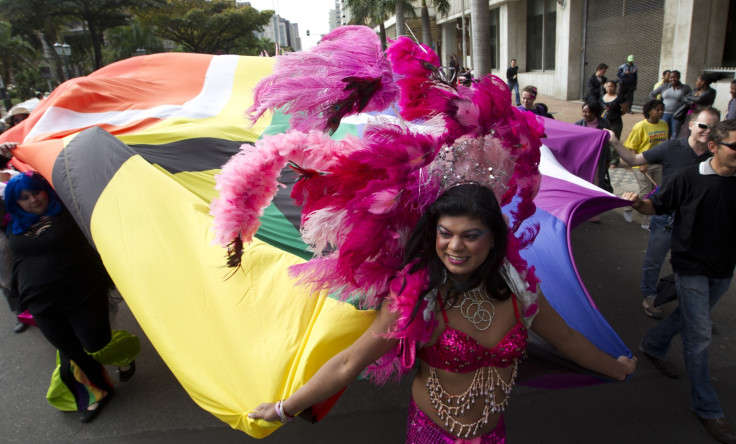 In a continent that has seen an upsurge in anti-gay legislation lately, South Africa appears, on the surface of it anyway, to be a little oasis of progressiveness - as can be witnessed at this weekend's much-feted Joburg Pride festival (Saturday, 25 October).
While some 38 of Africa's 55 countries now criminalise homosexuality, South Africa by way of contrast became the first country in the world to outlaw discrimination based on sexual orientation when introducing its new Constitution in 1996.
Under the apartheid regime, homosexuality had been a crime punishable by up to seven years in prison for men, although not for women whose sexuality, in line with other former British colonies, was not even recognised.
Laws protecting lesbian, gay, bisexual, transsexual, and intersex (LGBTI) citizens from employment discrimination followed in 1998, while legislation permitting same-sex marriage and civil unions entered the statue books eight years later - although it is still up to individual civil servants and members of the clergy to decide if they will conduct such ceremonies or not.
But even though change to the legal atmosphere has undoubtedly made a difference to the lives of LGBT and intersex people over the last 20 years, Johan Meyer, health manager at Out, says that "homophobia is still rife".
"When laws change, it doesn't mean that attitudes on the ground do. It often takes a bit of time for people to catch up," he says. One of the key issues here is that South Africa remains a socially conservative country, with a "strong religious component".
"Many people still believe strongly that being LGBTI is wrong," Meyer explains. "It's a traditional, conservative outlook on life that will take a while to change yet. But things are changing, slowly."
For example, in rural areas or in the townships, most people would prefer not to advertise their sexual orientation or even choose to stay firmly in the closet. But in affluent white suburbs in big cities such as Cape Town and Johannesburg, homophobia tends to be less marked and gay bars and clubs are not an unusual sight.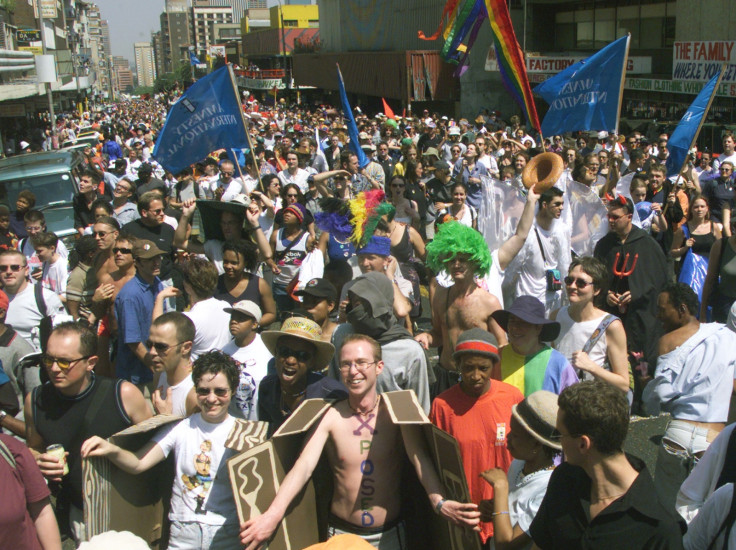 Slow social transition
Nonetheless, Stefan Swart, managing member for the Gay Association of South Africa, estimates that as many as one in ten LGBTI South Africans who can afford to leave the country do so, preferring the more liberal atmosphere of the UK, US, and Australia.
"It's hard to be LGBT in South Africa. We've come a long way since 1996, but it's been a slow transition. It's much easier if you live in an upmarket area, but it's really difficult if you don't," said Swart.
In a bid to make things easier, at least in pockets, Meyer's Out put together a national training manual and peer education programme with the Department of Health six years ago to try and boost staff awareness of LGBTI issues.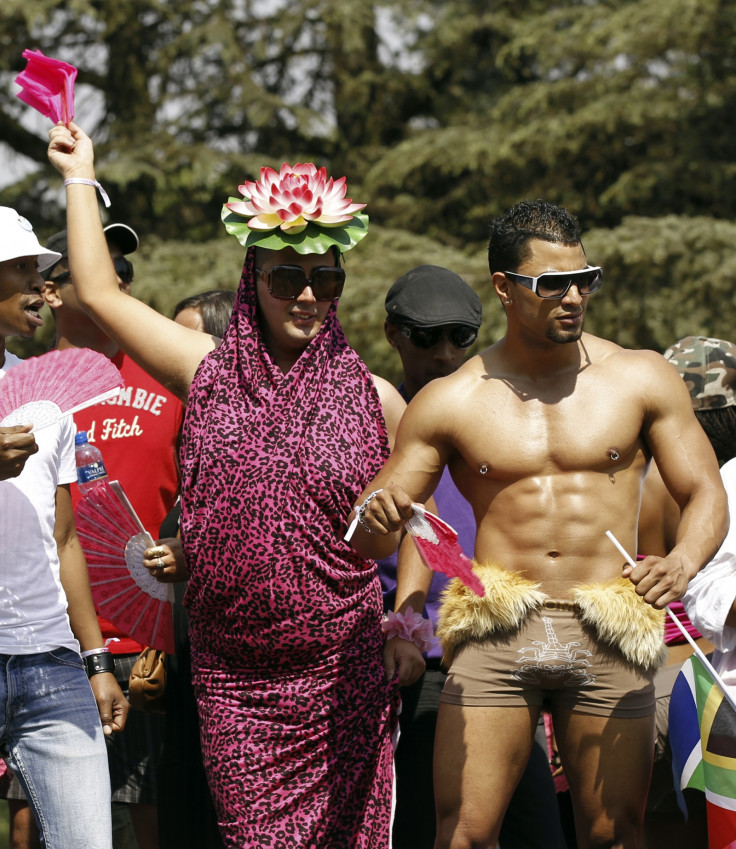 People take part in the Joburg Pride Parade in Johannesburg October 2, 2010. The parade and other related festivities are being held in honour of the gay and lesbian community in South Africa.
Reuters/Siphiwe Sibeko
An advocacy group that provides physical and mental health services to the community, Out has since rolled out similar schemes at the Department of Social Development and various civil society organisations.
A manual and associated training programme for the Department of Justice (DoJ), which includes the police and courts, is likewise expected to follow early in 2015.
But training is not the only involvement that Out has had with the DoJ lately. Because of the high incidence of so-called "corrective rape" among black lesbians in the townships, the NGO has been involved in advocacy with a DoJ task force currently in the process of exploring the issue of hate crimes.
Corrective rape, which involves violating someone in a bid to "cure" them of being gay, has become a critical human rights issue in South Africa over recent years.
The term was coined in the early 2000s when charity workers first noticed it taking place, in a country that has been widely described as the rape capital of the world.
In real terms, this means that some 500,000 rapes occur each year - the equivalent of one every 17 seconds - leading to an incredible 50% of the country's entire female population having been violated at one time or another during the course of their lives.
Hate crimes
But it is not only women who are affected by corrective rape. Although even fewer males than females report the problem due to the shame, humiliation and fear of victimisation that ensues, incident numbers are thought to be fairly similar.
So, while a Bill has yet to come before Parliament, Out's goal is to see the introduction of legislation that would recognise corrective rape as a hate crime based on sexual orientation and would sit alongside murder, physical assault, and verbal attack.
The second prong of the organisation's strategy to deal with hate crimes among the community, entails offering legal, medical, and counselling support to victims and their families with the help of five bodies, two of which are based in Joburg, two in KwaZulu-Natal, and the last in the Western Cape.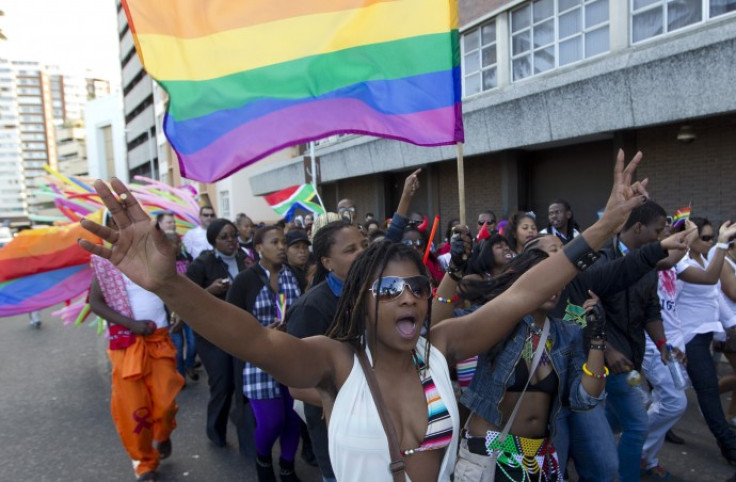 The Durban Pride parade where several hundred people marched through the Durban city centre in support of gay rights - 30 July 2011
Reuters/Rogan Ward
Education, is considered just as important. Since October 2013, when the initiative began, targeted communities have started receiving posters each month to help raise broader awareness of the issues, as well as online or SMS newsletters to disseminate information.
But it also seems that a bit of consciousness-raising may be necessary among the LGBTI community itself. The theme of this year's Joburg Pride, which is expected to attract more than 30,000 participants, is "I am human", with a special focus on bi-sexual and intersex people.
Swart, whose Gay Association is actively involved in the festival - the country's largest and longest-running such event - explains the rationale: "Even though bi-sexual and intersex people are part of the LGBTI community, there tends to be quite a lot of discrimination against them, with people often saying 'we don't know who you are'."
Therefore, although the occasion to date has been "mostly about gays and lesbians", the aim this year is to promote greater understanding and "encourage this part of the community to come out, get help and not be scared".
Because, after all, as Swart quite rightly concludes: "They're just normal human beings like everyone else."
© Copyright IBTimes 2023. All rights reserved.