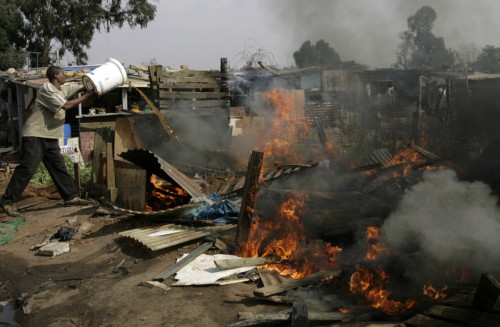 Three men have been killed and one was set alight in the Freedom Park informal settlement in Rustenburg, near the Magaliesberg mountain rage in South Africa.
Police have reported that two men were shot and injured at a tavern at the weekend, allegedly by two Lesotho nationals.
Shortly afterwards, a vigilante mob caught one of the Lesotho men and took him back to the tavern. He was reportedly burnt alive, according to Brigadier Thulani Ngubane.
The second Lesotho man was also caught, stripped naked and murdered.
Ngubane added: "Both foreigners were found with stab wounds."
After the bodies of the two men were discovered, hundreds of people gathered at the residence of a local, unnamed businessman who the group suspected had been harbouring the two armed men from Lesotho, as well as other criminals. He was killed, his shop was looted and was reportedly burnt down.
Ngubane said: "The crowd allegedly looted his shop, burnt his properties, including a house, as well as vehicles, and killed him."
Police deployed to the scene retrieved a firearm with live ammunition and a spent cartridge casing from the crowd. No arrests have been made, but police are investigating the series of incidents.
Thandi Modise, the North West Premier (head of government of the North West province of South Africa), has condemned the mob killings of three people in the Freedom Park informal settlement in the Rustenburg area.
Modise added that vigilante action created a cycle of violence, as seen in the incidents over the weekend.
She said: "We condemn, in the strongest terms possible, vigilantism as it leads to lawlessness and revenge attacks by persons who feel aggrieved by the actions of those who conduct kangaroo courts and give themselves the roles of judges and executioners."
South Africa has a high rate of violent crime and in November 2013, an enraged mob in the township of Khutsong killed five alleged criminals, including a traditional healer.
The surrounding area, known as West Rand, has seen several instances of vigilate mob violence. Around 400 men gathered in an open field to air their grievances about gangsters in the Khutsong area, before splitting up into groups. They first attacked the 61-year-old healer, by setting his house alight and burning him to death.