South Korea has announced it will cover the costs of North Korea's Winter Olympics delegation.
The bill, which will come to approximately 2.86bn Korean won (£1.9m, $2.64m), will be paid by the South's Ministry of Unification. The fund, created in 1991, has a 2018 budget of 962.4bn won (£6.5m, $8.95m).
The biggest chunk of the budget - 1.2bn won (£804,000, $1.1m) - will go to accommodation and catering costs of the 424-strong North Korean delegation, which includes over 200 cheerleaders, a 137-piece orchestra, taekwondo performers, journalists and other supporting personnel.
Another 1bn won (£670,000, $930,000) will be used to pay for entrance fees to Olympic venues, while 100m won (£67,000, $93,000) has been earmarked for travel expenses.
The bill of the 22 North Korean athletes competing in this year's games will be covered by the International Olympic Committee.
Ministry spokesman Baik Tae-hyun said that the costs of the high-level diplomatic delegation, which included Kim Jong-un's sister, Kim Yo-jong, would be paid for separately from the South Korean government budget.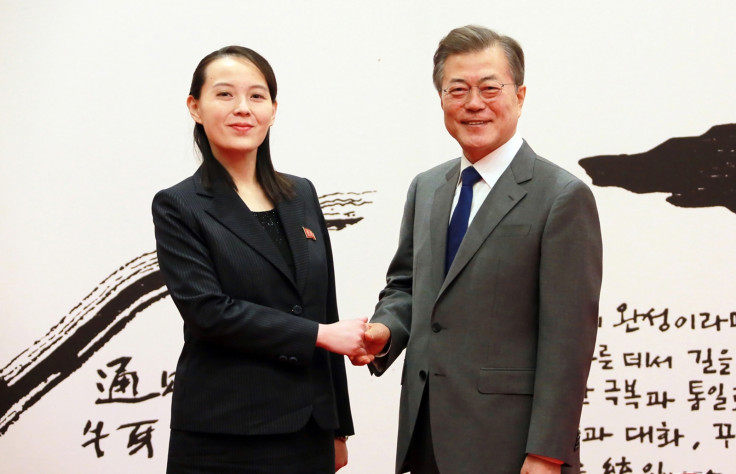 South Korea traditionally foots North Korea's bill at international sporting events held south of the border as a prerequisite of the North's attendance.
This year's figure is much higher than the 1.35bn won (£905,000, $1.25m) that South Korea paid to cover the costs of the 650-strong Northern delegation to the 2002 Asian Games in Busan, South Korea.
One reason for the lower total in 2002 was that the North Korean cheerleading squad stayed and ate on the ferry they arrived on, a ministry official told Reuters. Most of the North Koreans visiting this year have stayed in luxury hotels in Seoul and host city Pyeongchang.
In 2014, the South spent around 41m won (£274,000, $380,000) to pay for the Northern delegation to the Asian Games in Incheon. In the lead up to the games, South Korea announced that every nation would have to pay its own way. This led to North Korean representatives storming out of a planning meeting and threatening to boycott the games, forcing the South to pay for the delegation.
A unification ministry statement said that in making the payments, it "will continue close consultation with the international community, taking into account international sanctions against North Korea".