The woman at the centre of South Korea's political scandal has denied using her special relationship with impeached President Park Geun-hye for financial gain, as her trial began on 19 December.
Choi Soon-sil was not required to attend the hour-long hearing, but reportedly insisted on being present. Wearing white prison clothes, Choi denied pressuring companies into donating tens of millions of dollars to foundations under her control.
"I'm sorry for causing trouble. I'll faithfully engage in [my] trial," Choi said, bowing in front of the three judges, the Associated Press reported.
Choi, Park's friend of more than 40 years, was extradited to South Korea in October and arrested under suspicion of corruption and extortion facilitated by her ties to the president. Amid other evidence, an old hard drive belonging to Choi, who has never held public office, was found to contain classified documents allegedly dealing with government internal and foreign policies.
These charges led to the impeachment of President Park after tens of thousands of people took to the streets in protests.
This was Choi's first public appearance since apologising for committing "a capital offence" to reporters surrounding her outside the public prosecutors' office on 31 October".
Choi faces charges of abuse of power, extortion and attempted fraud. These could carry up to 15 years in prison, according to court spokesman Shin Jae-hwan.
The trial resumes again on 29 December and may take up to six months to get a verdict, unless prosecutors bring new charges. Ten other people close to President Park also face trial for their involvement in the scandal.
The prosecution alleges that the idea of launching the foundations came from President Park, who ordered her senior secretary for policy coordination at the time, Ahn Jong-beom, to ask major companies to donate funds, while letting Choi handle the appointment of foundation officials.
The story of how Choi grew to wield such influence on the president is rooted in the women's family ties. The two have known each other since they were children as Choi's father Choi Tae-min was a close confident of Park's father, military dictator Park Chung-hee.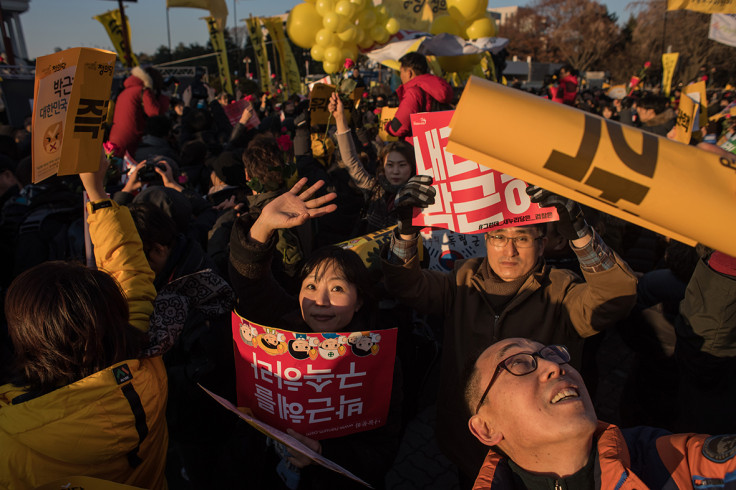 Park has immunity from prosecution for most crimes while in office. Her legal team has questioned the legality of her impeachment by the country's parliament and said no serious crime was committed. The Constitutional Court is now reviewing Park's impeachment and, if it rules against her, she'll be formally unseated and must undergo a direct investigation.
In a public apology issued on 25 October, Park admitted that Choi had edited some of her speeches and provided public relations help, but has denied any other legal wrongdoing.
Before the scandal came to light, Park had been calling for changes to the country's constitution by mainly scrapping the single-term limit on the presidency, which was due to end in 2018.