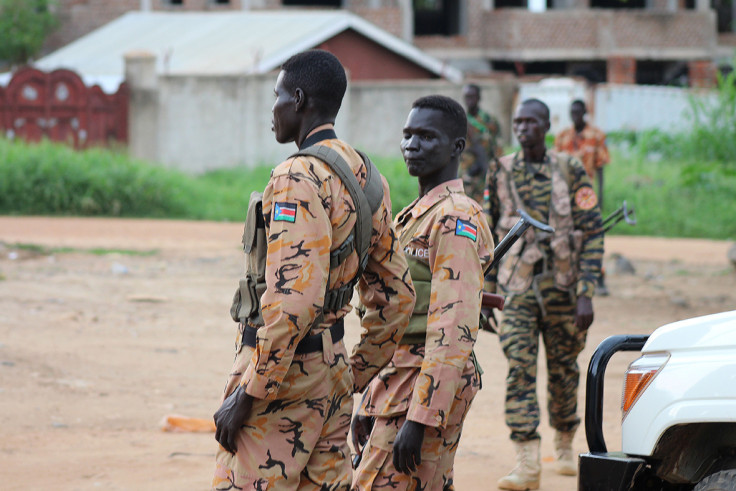 The South Sudanese government has announced it is sponsoring a planned demonstration against the African Union-approved plan to deploy more peacekeepers in the country. The decision to deploy more Unmiss (United Nations Mission in the Republic of South Sudan) troops came days after recent fighting between warring sides left at least 300 people dead, sparking fears that the country could plunge back into civil war.
Soldiers from countries including Ethiopia, Kenya Sudan and Uganda are to join a 12,000-strong UN contingent already present in the African nation.
However, the South Sudanese government said the country was not ready for further deployments of troops.
"We are not ready for a deployment of even a single additional soldier," South Sudan's information minister, Michael Makuei Lueth, told the BBC. "That does not solve the problem."
A government-sponsored demonstration is scheduled to take place at the Sudan People's Liberation Movement House and the John Garang Memorial in the capital Juba on Wednesday (20 July 2016).
The US embassy advised its citizens to avoid the areas amid fears peaceful demonstrations could "escalate into violence."
Fears of a new civil war
South Sudan descended into civil war in 2013 when President Salva Kiir, of the Dinka ethnic group, fired his deputy Riek Machar, from the Nuer group, and his cabinet.
Ethnic-related violence then spread, with militia groups carrying out attacks in villages and areas known to be inhabited by either the Dinka or Nuer tribes.
More than 10,000 civilians have so far been killed in the conflict, amid allegations of crimes against humanity committed by both sides, including extra-judicial killings, abductions, rape, torture and use of child soldiers. At least two million people have also been displaced.
Although the warring factions have signed at least seven peace deals, violence has continued, and a January report from the African Union blamed both leaders for the ongoing unrest.
Earlier in July, at least 300 people were killed and thousands displaced in and around Juba during clashes between warring factions. The government announced a unilateral ceasefire, and both Kiir and Machar ordered government and rebel forces to cease hostilities.
The latest outbreak of violence occurred as the country, the world's newest nation, marked its fifth year of independence from Sudan on 9 July 2016. Machar's return to South Sudan and his reinstatement as vice-president in April had restored hopes for the implementation of a peace process signed in August 2015. However, tensions have been running high since Machar's return.