The Sukajan jacket, or souvenir jacket as it is more widely known now, is the bright, light, decadent new hero of menswear this spring and is taking over as the hero item of choice to add to your summer wardrobe.
Everyone from Harry Styles to Brooklyn Beckham have been seen brightening up their wardrobe with the silken, detailed print and embroidered designs fresh from the runways of the likes of Alexander McQueen, Louis Vuitton and Valentino.
Whilst it may look like a bomber jacket on acid, the souvenir jacket has been around since the Second World War and the original designs have gained a somewhat cult collector status among vintage circles.
A lasting piece of post-war memorabilia, the jackets originated in Japan and Korea after the second world war, when soldiers coming home had their service jackets embroidered by local craftsmen to commemorate their time away. Everything from maps to dragons and tigers were emblazoned on the keepsakes. Hailing primarily from the Yokosuka military base, located in the Greater Tokyo area but soon became popular all over army bases with soldiers having personal clothing decorated, mainly the varsity jackets we see in the stores now.
Sticking around long into the fifties they also became famous for gangs and non conformists in the US and Japan with the bright colours and bold designs definitely setting the wearer apart from the standard issue suiting or preppy looks of the late fifties and early 1960's.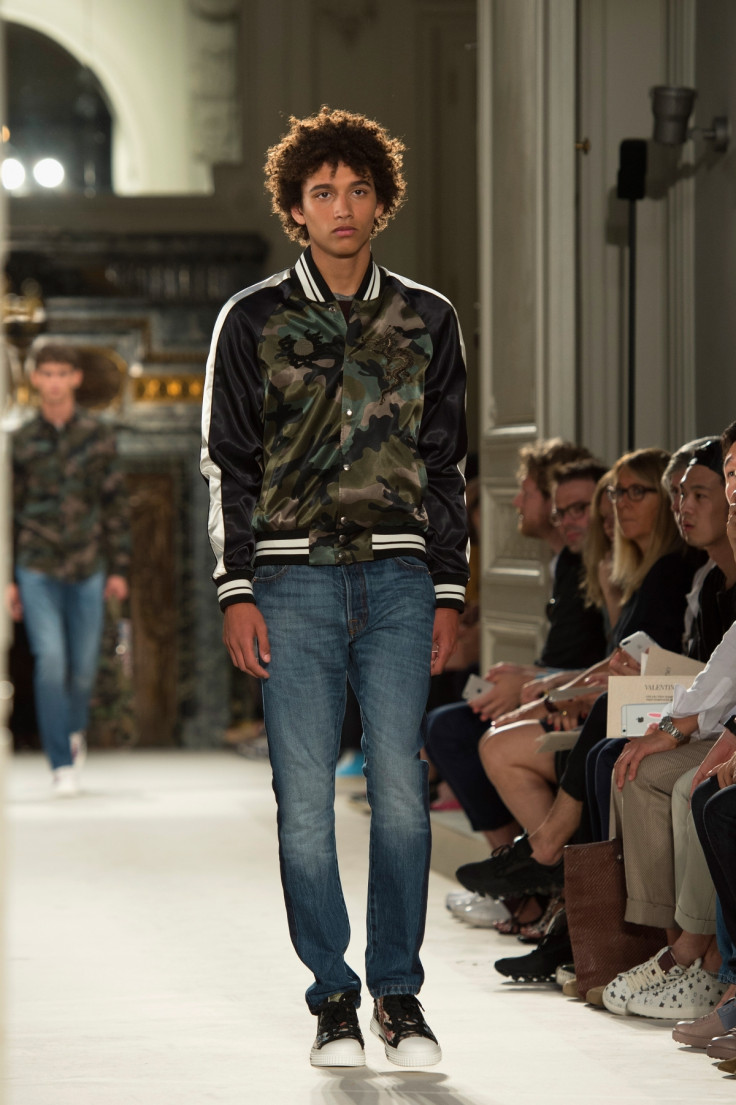 Take it up to present day and not much has changed, these jackets still caused a storm when we saw them on the runway and are no less a sartorial talking point now than they were after the war. The relaxed varsity style mixed with the confident colourful print and lavish embroidery makes the souvenir jacket a perfect peacocking staple item for anyone wanting to brighten up their spring wardrobe a little. Layer over a white t-shirt and jeans like Brooklyn Beckham to get the most out of your jacket without overdoing it. ASOS and Gucci have some fantastic traditional embroidered styles, whist the likes of Alexander McQueen and Valentino have some more pared back examples if you don't want to go full on Sukajan. of course if you want to be fully traditional, there are still some great vintage originals for sale on Etsy.
Where to shop: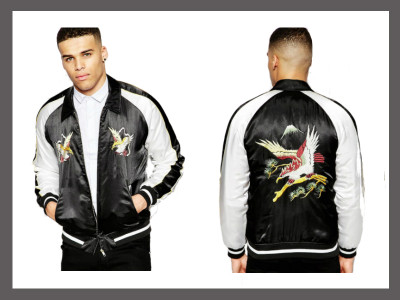 Bomber Jacket with Eagle Embroidery; £55.00, ASOS
Valentino - Camouflage bomber jacket; £1,645, Farfetch
Alexander Mcqueen - Tree embroidered bomber jacket; £1,045, Farfetch
Vintage Japanese Sukajan Eniwetok Atoll Nuclear Souvenir Jacket; £289.98, Etsy
Valentino - Dragon-embroidered camouflage baseball jacket; £2,125, Matchesfashion
Bomber jacket with tiger embroidery; £55, ASOS
Gucci - Reversible Satin Bomber Jacket; £1,600, Brownsfashion
Roberto Cavalli - reversible bomber jacket; £1,349, Farfetch