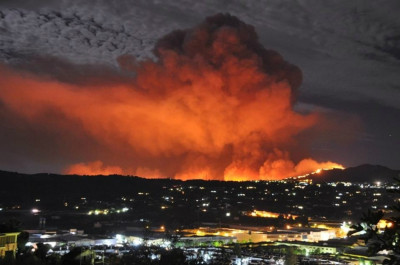 More than 250 firefighters and 17 water-bomb aircraft have been deployed to put out wildfires burnings hug swathes of southeast Spain.
The fires have claimed the life of one man and caused thousands of tourists and residents to be evacuated around the city of Marbella on the Costa del Sol.
"Thousands of people have been evacuated, two people are injured and lots of houses have suffered damage," Elias Bendodo, the president of Malaga council, said.
High temperatures and tinder-dry countryside frequently spark summer in southern Spain but meteorologists said these fires are the worst recorded in the last in a decade.
Earlier this summer wildfires also raged across the Spanish islands of La Gomera and Tenerife in the Canaries, prompting a mass evacuation of thousands of people.