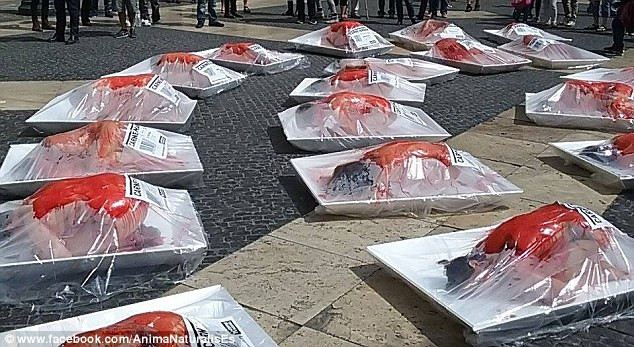 The demonstration took place in Sant Jaume plaza, Barcelona, the first city in the world to declare itself vegan-friendly. 20 protestors were wrapped in clingfilm and smeared with fake blood on Sunday 22 May. They are urging people to switch to a meat-free diet, which they say causes suffering and exploitation to animals.
The protestors resembled large slabs of meat and were wrapped up as food packages with the label 'carne humana' which means human meat in Spanish. Animal rights group AnimaNaturalis says that every year, 60 billion animals are used as a food source for people, "thus making the lives of living beings into mere objects of production to feed the human population."
The group want animals to be protected and for people to have an alternative diet "that does not involve deaths or animal abuse."
They told The Local: "We encourage everyone to leave meat off the plate and join the millions of people around the world who believe that a day without meat can make a difference.
"For the animals, for the planet, our health, leave the meat off your plate."
The aim of the protest was to get the attention of the authorities said Aïda Gascón, the director of AnimaNaturalis in Spain.The animal rights group claim that the Barcelona's city council have not upheld their pledge to join campaigns such as Meatless Monday, headed up by Sir Paul McCartney.
In March, Barcelona declared itself "veg-friendly, friend of vegan and vegetarian culture". The proposal was passed with the support of the left-wing coalition Barcelona en Comú, the Republican Left of Catalonia (ERC), the Socialists, the Convergence and Union party (CiU) and the CUP. City Hall also promised to produce a vegetarian guide to Barcelona.
The Spanish city has long held the vegetarian cause close to their chests. Animal Equality has carried out direct action including rescuing pigs from slaughterhouses, and targeting warehouses holding 40,000 hens. In June 2008, they held demonstrations the La Monumental bullring in Barcelona after one of the bulls died.