Shares in Sports Direct tumbled almost 7% early on Thursday (8 December), after the sports retailer reported profit before tax in the first half of its financial year more than halved following the pound's collapse after Britain's European Union referendum.
In the 26 weeks to 23 October, underlying pre-tax profit plunged 57% year-on-year to £71.6m, while reported profit before tax fell 25.1% from the corresponding period in the previous year to £140.2m.
Meanwhile, revenue on a constant currency basis was 4.2% higher than last year, rising to £1.6bn, although the company warned the challenging environment is expected to continue for the foreseeable future.
Sports Direct owner Mike Ashley, who replaced Dave Forsey as chief executive in September, spoke of a shaky period for the company.
"The last six months have been tough for our people and performance," he said.
"Our UK Sports Retail business continues to be the engine of Sports Direct, but our results have been affected by the significant deterioration in exchange rates, and our assessment of our risk relating to our stock levels and European stores performance."
The disappointing set of results come after a torrid year for the FTSE 250-listed group, which earlier this year was heavily criticised for the treatment of its staff and for the working conditions it offered.
A report into Sports Direct released in July concluded the company's billionaire founder had built his success on a business model that treats workers "without dignity or respect".
It said working conditions for his staff were similar to those of a Victorian workhouse, and heard numerous accounts of worker mistreatment, including staff being penalised for taking breaks and promises of permanent contracts in exchange for sexual favours.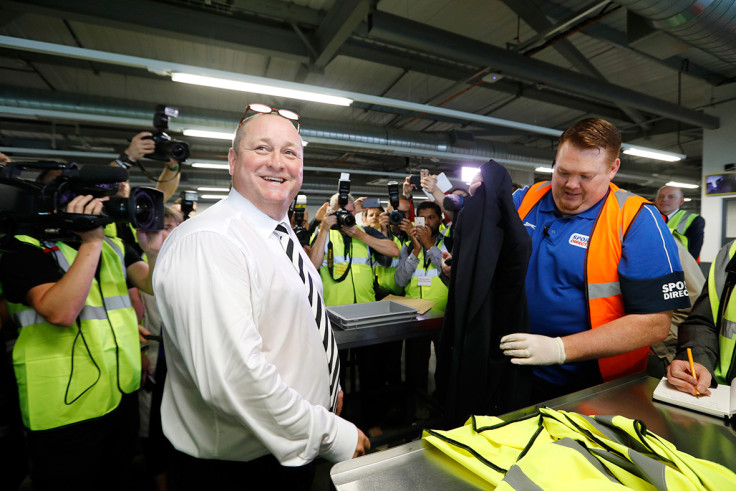 Ashley was summoned to appear in front the Business Select Committee and was questioned by MPs only after he initially challenged whether parliament had the power to summons him.
He branded the MPs "a joke", saying they should visit the company's Shirebrook site for themselves. However, when six MPs did so Sports Direct became involved in another controversy after MPs claimed an attempt was made to smuggle in a recording device behind a plate of sandwiches to record their discussions in a room at the site at the end of the visit.
The company swiftly dismissed the accusation and, on Thursday, Ashley stressed the company's staff had been unjustly been put under the microscope over the last few months.
"What matters most to me is how tough the last year has been for the people who work at Sports Direct," he said.
"Our people have once again found themselves in the spotlight through no fault of their own, yet they remain hard-working and loyal. It is for this reason that my immediate priority will be to protect the people at Sports Direct."