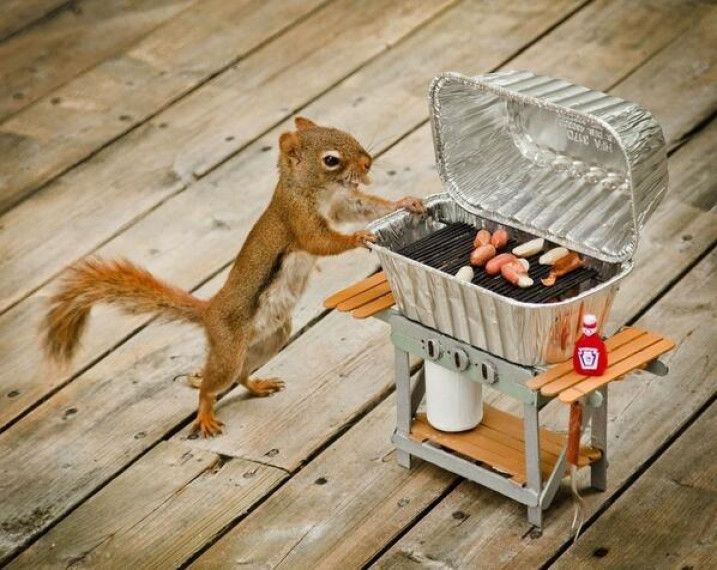 The organiser of a controversial squirrel burger-cooking contest, Rachel Thomas, said on Tuesday that squirrels make a "good food source" and should be served more often to control the squirrel population.
The controversial content was staged at the Forest Showcase Food and Drink Festival in southwest England at the weekend, and while it was attended by many, animal rights activists were not in support.
Exhibit coordinator Thomas told AFP News:
"There was plenty to go round. Lots of people came and tried and they were very tasty and very positively received. If you eat meat, why not squirrel? Lambs, rabbits, they're all cute animals so we don't see what the fuss is all about. They are, we think, a good food source. We decided, let's get a bit of education out there, it's about time they were managed properly."
The competitors were each given a quarter of a pound of minced grey squirrel meat.
A 'Cajun Melt' squirrel burger took the first prize, while 'Chicken of the Tree Surprise' came a close second.
Thomas described the squirrels' taste as a combination of chicken and rabbit, and encouraged using the animals as a source of food, rather than trapping and gassing them. "We should be actually using them for a food source instead".
While squirrel meat consumption remains a niche, there are a few restaurants and shops that serve the meat.
People for the Ethical Treatment of Animals condemns the sale and serving of squirrel meat.
A spokesman for the organization said, "Our shops are brimming with healthy and delicious grains, pasta, beans, rice, nuts, fruits, almond milks and soya puddings.
"More and more Brits are realising that these are not only far kinder choices but also far more nourishing than the dead bodies of squirrels, ponies or any other animal for that matter."