As flood waters caused by a week-long torrential downpour have receded in Colombo as well as Kelaniya and Kaduwela areas of Sri Lanka, relief measures have been launched. However, heavy rains continue to lash other regions in what is being called the heaviest downpour in 25 years. Already two major landslides have been triggered, burying victims and displaced numerous others.
Despite clearer skies in some regions, the government is now concerned about the outbreak of disease in the aftermath of the disaster. "There is a real danger of diarrhoea and skin diseases spreading among the flood victims," Colombo Municipal Council medical chief Ruwan Wijayamuni said.
Kegalle, about 100 km (60 miles) northeast of the capital Colombo suffered some of the worst devastation caused by landslides where two villages were destroyed last week. Army and rescue workers pulled out the bodies of 23 people who were buried in the mud this weekend (21-22 May) alone, bringing the death toll to 92. As many as 109 people are still reported missing across the island, according to the Disaster Management Centre's most recent update.
At least 340,000 people have been displaced and more than 474 houses totally damaged by the mudslides and floods. On 21 May it was reported that 427,918 people have been affected, most of whom are now residing in 497 relief camps.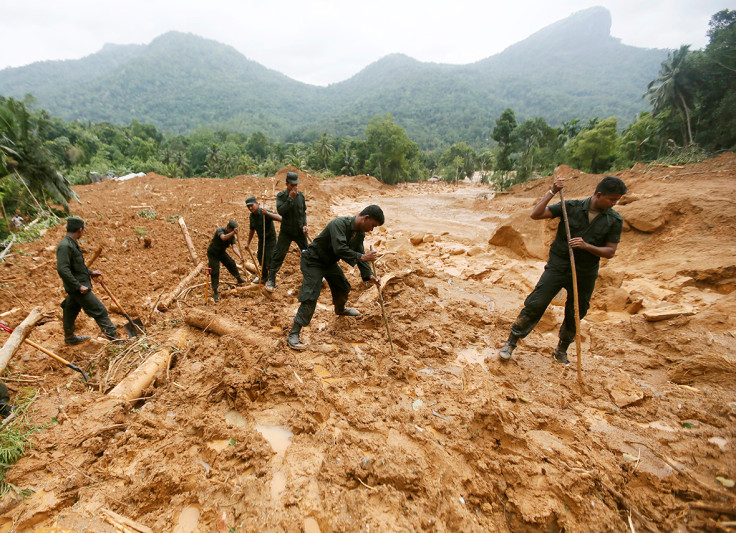 The Sri Lankan government has called for urgent international assistance but mentioned that monetary aid would be preferred to material help. India, Pakistan, China, Australia and Japan have already sent in emergency supplies like blankets, water-purification tablets and drinking water. The country's Consulate-General in Dubai has appealed to expatriates and other UAE residents for donations for rescue and relief efforts.