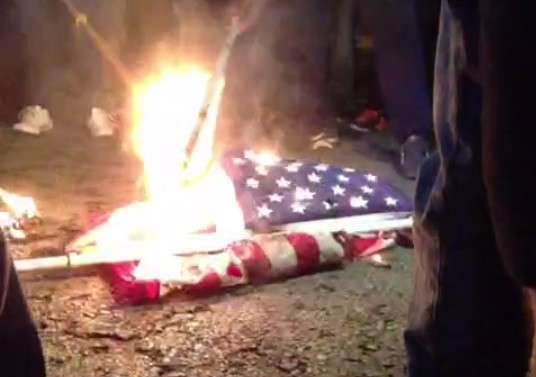 Protesters in St Louis set fire to US flags on the second night of unrest following another shooting of a black male by a white officer in the area.
Hundreds of demonstrators lined the streets in the Missouri town to express their anger at police in an area where tensions have already been high following the shooting of unarmed black teenager Michael Brown.
The latest disorder followes the killing of 18-year-old of Vonderrick Myers, who was reportedly shot 17 times by an off duty St Louis police officer after he fired at him following a chase.
Police eventually used tear gas and pepper spray on the protesters as the disorder intensified, with some burning US flags while shouting: "This is what democracy looks like".
Elsewhere, police vans were also attacked and one officer is also reported to have been injured after he was hit by the blunt end of a knife which had been thrown from the crowd.
There have been contrasting versions of events which lead up to the shooting of Myers. St Louis Police said the officer drove past three males, one of who began to run, and began a chase.
The officers claims he first suspected Myers was armed as he was holding his waistband. After approaching Myers, the pair were then involved in an altercation before the suspect ran off again. The officer then shot at Myers after he turned and pointed the gun at the officer, firing at least three times.
The 32-year-old officer, who was wearing his uniform at the time, was not injured during the incident. The family of the teenager claim Myers was unarmed when he was killed and the officer, who has not been named, mistook a sandwich he was holding for a weapon.
Police said the suspect's 9mm handgun was recovered at the scene.
The officer involved in the shooting of Myers has been placed on administrative leave and an investigation is under way.