Most of the cast of Star Wars: Episode VIII have wrapped production after months of filming and several members including Anthony Daniels, Peter Mayhew and Carrie Fisher as well as director Rian Johnson are all set to attend London's Star Wars Celebration this weekend. Mark Hamill was day one's guest on Friday (15 July) and the 64-year-old made a pretty big claim during his special interview... the eighth film has the best one-liners of the franchise so far.
"I was looping Episode VIII yesterday and there's dialogue in there, and I thought, 'Oh boy. I can already see this on a T-shirt' he enthusiastically stated during his main stage panel. "Seriously! Rian Johnson is amazing. You can forget all about 'May the force be with you.' He's come up with so many new catchphrases."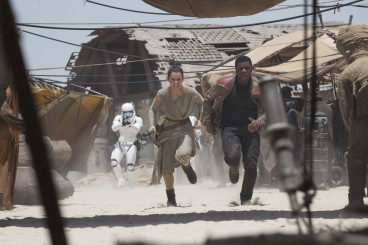 The actor, who reprises his role as Jedi master Luke Skywalker after only being glimpsed in The Force Awakens, also touched upon the extreme secrecy that both Disney and Lucasfilm go to to avoid spoilers for their audiences. He also assured fans that while it can be frustrating, it makes for a much better cinematic experience when you don't know every in-and-out when it comes to the movie's plot.
"Your question about secrecy, they're not doing it to annoy you. It's just that they want the surprise to be in the movie theatres, not on the internet," he explained. "You don't want to know what you're getting for your birthday!"
While he understands that the lengths the cast and crew have to go to avoid things leaking online is just part of the job, Hamill did jokingly admit that he finds it difficult to work without a physical, printed-paper script. "I'm in the elderly recluse phase of my career. I have to write cartoons in the margins to make me remember these lines. You can't do that on [an iPad]! I need old school, I need a script that you can write on and you get home and look and read," he told the audience.
"So they let me have one scene and I keep it on my person, you know, because you get really paranoid. You think, 'Oh, I left the pad on. I wonder if the maid knows the code.' It's long. It's crazy. With numbers and letters and capitals and small. Really bad. There was a short way to do it but if you had your pad on for longer than three days then it would go back to the long one. It drives me crazy. It really does. But it's for your viewing pleasure that we do this."
As Star Wars Celebration continues this weekend at the Excel Convention Centre, make sure to check back for more news updates. It's already rumoured that the official title to The Force Awakens sequel could be announced this weekend while it's likely that a Rogue One: A Star Wars Story trailer will be showcased too (probably during the film's segment which begins at 4pm). Star Wars: Episode VIII is currently scheduled to be released in both UK and US cinemas on 15 December 2017.

For more entertainment news follow A-List on Twitter @Alistinsider