The trailer for Star Wars Rebels season 3 has been officially unveiled at Star Wars Celebration Europe. The first footage of the third season of the animated series features the return of fan-favourite Rebels and introduces a new villain for the Ghost team to fight.
Kanan is now a blind Jedi, Ezra is still tempted by the lure of the Dark Side, Darth Maul is alive and is seen manipulating Ezra yet again. The most surprising addition to the season 3 cast is that of Grand Admiral Thrawn, a villain created by Timothy Zahn in the Star Wars Expanded Universe novel Heir to the Empire. Thrawn's character will be voiced by Lars Mikkelsen – the brother of Hannibal actor Mads Mikkelsen.
In Heir to the Empire, which is set after Return of the Jedi, showed Thrawn – one of the most powerful figures in the Empire, ruling its remnants. But this version will show him making his presence felt in the pre-A New Hope years, covered by Star Wars Rebels.
The Season 3 trailer opens with Ezra yelling: "Ashoka" as we see Kanan sporting a beard and a shield covering his eyes, saying: "Battles leave scars. Some you can't see."
Ezra, who is still conflicted between choosing to follow the Dark Side or the Light Side of the Force, is seen holding a Sith Holocron uttering: "I will never let my friends get hurt again."
"The Holocron, I am afraid it's changing you," warns Kanan.
The young Jedi argues, "What if there are secrets we can learn from it that will help us destroy Sith?"
But Kanan points out that the secret in the Holocron, a Sith training device, nearly destroyed him.
The trailer also features Darth Maul trying to influence Ezra as he tells the young Jedi to embrace his destiny, telling Ezra: "Jedi and Sith are Light and Dark."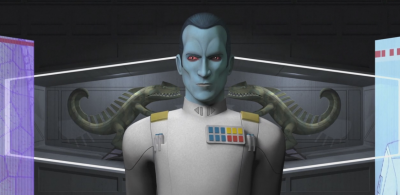 In another scene, Ezra says, "I want to become more powerful," hinting at the character's temptation towards the Sith and the Dark Side of the Force.
The trailer also introduces Thrawn – who many Star Wars fans have wanted to become canonical since the franchise was brought back to life – as an intelligent and fearsome foe. The blue-skinned alien foresees that the Rebel Alliance, "will be the architects of their own destruction".
The three-minute trailer ends with Kanan asking Ezra to "wait before it's too late", as the young Jedi is seen in using the Holocron with Darth Maul, most probably to unravel its mystery, and the whole things explode in the end.
Star Wars Rebels Season 3 will return to Disney XD this fall 2016.