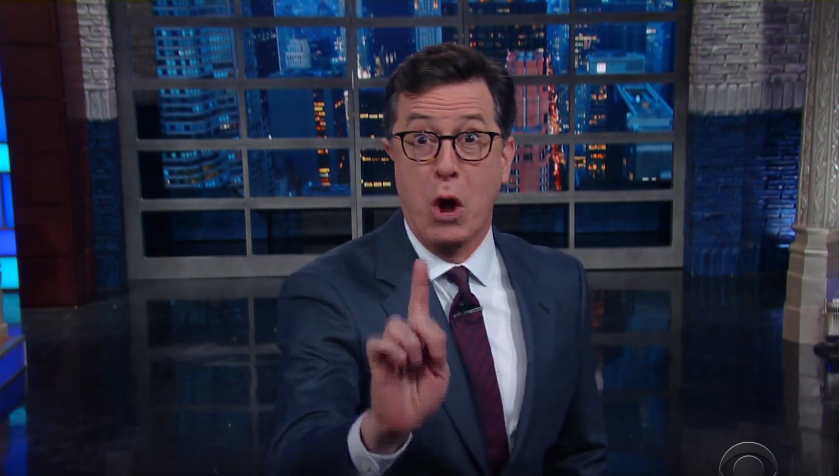 Tax evasion, ties to Putin and Islamophobia are few things about Donald Trump that talk show host Stephen Colbert is ready to let by, but he is not okay with the president-elect attacking Meryl Streep. The host of the Late Night Show was of the view that Trump had crossed the line when he called the veteran actress "overrated".
"Look Mr Trump, you can refuse to release your taxes, you can call to ban an entire religion, you can play footsie with a dictator, but calling Meryl Streep overrated? No. Too far," he said on the 9 January episode of the show.
A day earlier, the Devil Wears Prada actress referenced an incident from 2016 when Trump – who she did not name directly – allegedly mocked a disabled reporter. "When the powerful use their position to bully others, we all lose," she said in her Cecil B DeMille award acceptance speech.
"Of course, President-elect Trump was too focused on defeating Isis to creating jobs to pick a fight with a celebrity," Colbert said in the segment and added, "Just kidding."
The incoming Potus was quick to respond with a series of tweets in which he called her "one of the most overrated actresses in Hollywood".
"Meryl Streep, overrated? Have you seen Sophie's Choice? Have you seen The French Lieutenant's Woman? Have you seen the one with the dead people that she's even funny in that one?" Colbert said, clearly upset by Trump's total disregard for the actress' contribution to cinema.
"I wasn't going to go for the Million Women March, but now I am. It's going to be a Million Meryl March... I'll be the one holding the Blu-ray of Kramer vs Kramer and weeping," he added.
Check out the segment of The Late Show below:
Meanwhile, Seth Meyers also used his segment A Closer Look, to shame Trump. "Overrated? She's so good, people use her to compliment people in other professions," the talk show host said. "Like LeBron James is the Meryl Streep of basketball, or Donald Trump is the Meryl Streep of having thin skin."