Police investigating the 1993 murder of teenager Stephen Lawrence have released digitally enhanced CCTV footage of a potential witness in their ongoing enquiries. Met Police have issued the footage and stills of a previously unidentified man seen in an off-licence around 330 yards from the bus stop where Lawrence was killed.
The man, who can be seen wearing a distinctive 'V' emblem jacket was captured on CCTV in an off-licence on Well Hall Road in Eltham, south-east London at 8pm.
Following a confrontation in nearby Dickinson Road, Lawrence, 18, was stabbed to death by six white youths in an unprovoked racist attack as he waited at a bus stop on Well Hall Road in Eltham at 10:35pm on 22 April 1993.
Witnesses previously reported seeing a man in a distinctive green jacket with the 'V' emblem close to Well Hall Road roundabout around the time Lawrence was attacked. Police are now appealing for the man seen in the CCTV images to come forward to assist with their investigations.
More than 18 years after the Lawrence's murder, two people Gary Dobson and David Norris, were convicted in January 2012 and jailed for life. Police have vowed to continue the investigation until they are able to convict the rest of those responsible for Lawrence's murder.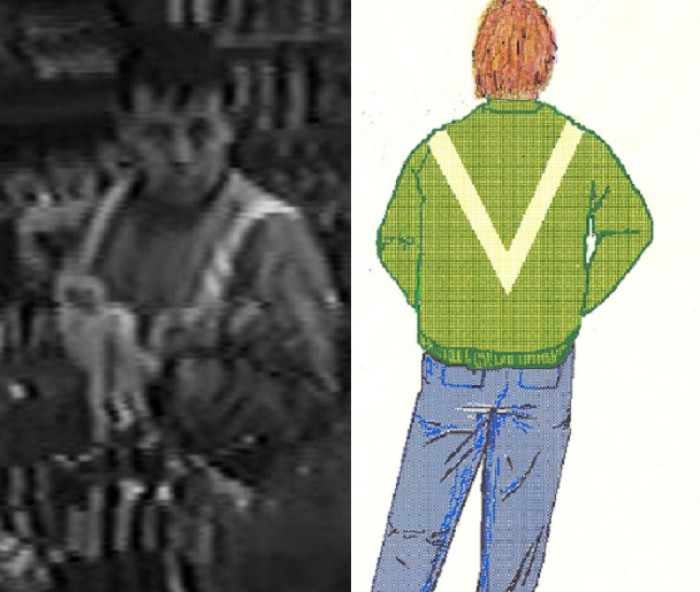 DCI Chris Le Pere, in charge of the investigation said: "We are appealing for this man to come forward so that we can speak to him to establish if he can assist with our enquiries, or if we can eliminate this strand of the investigation.
"He was seen in the off-licence at 8pm and then again later that night not far from where Stephen was attacked. It is important that we speak with him.
"The image of the distinctive jumper was previously circulated to media in 1993 and again in 2013. The CCTV was recently identified as part of a regular internal review of the case. Officers digitally enhanced it to give us the clearest possible image, and having carried out enquiries to trace him, now release it again to make a public appeal.
"The investigation remains open. Two individuals were found guilty of murder, but officers continue to follow lines of enquiry. We are hoping that over the passage of time allegiances may have changed, people may have moved away and feel more confident coming forward."
Police have said they will be making further appeals later in the year.
Anyone with information is asked to contact the incident room on 020 8785 8310 or Crimestoppers, anonymously, on 0800 555 111.