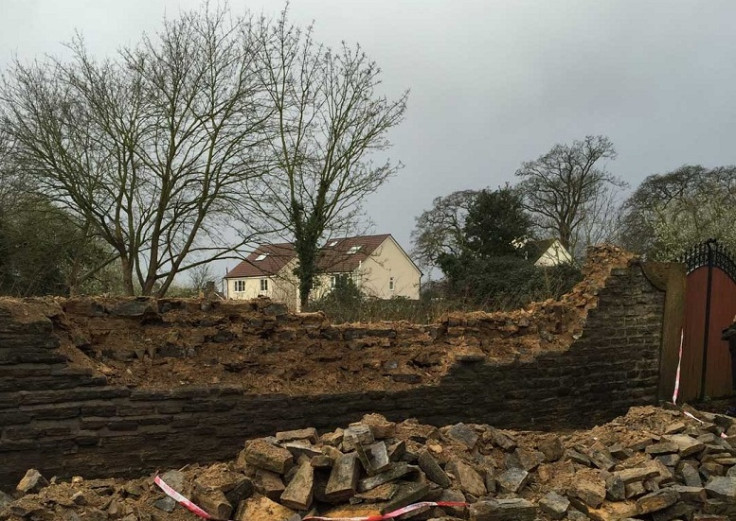 Two schoolchildren have been badly injured after a stone wall collapsed on them as hurricane-force winds battered parts of Britain. A four-year-old boy and a girl aged seven were taken to hospital with serious leg, back and facial injuries early on Monday (8 February).
The 10ft (3m)-high garden wall collapsed as the pair walked to school in the Worcestershire village of Bretforton near Evesham. They were reportedly walking ahead of their mother as a large section of the wall struck them. Passersby rescued the children from the rubble, with paramedics treating them at the scene before an air ambulance arrived. Station commander Steve Fox of Hereford & Worcester Fire and Rescue Service said: "I would suggest high winds we've experienced would have contributed to the wall collapse."
He added: "All of the emergency services worked closely together to swiftly rescue and treat the children, who were then promptly transferred to hospital via air ambulance to give them the best possible care."
A West Midlands Ambulance Service spokesman added: "The boy had leg and back injuries and was flown by the Warwickshire and Northamptonshire Air Ambulance to Birmingham Children's Hospital. The girl who had leg and facial injuries was taken to the same hospital by land ambulance."
It comes as Storm Imogen continues to batter parts of Britain, bringing with it 90mph winds and leaving more than 13,000 homes without power. Rough seas have seen ferries cancelled with one freak 63-foot (19.1m) wave recorded off the coast of St Ives – roughly the same height as the Angel of the North in Tyne & Wear. Cars were left half-submerged in sand at Fistral Beach in Newquay as winds lashed the beach, a lorry was blown over on the M4, while a roof blew off a Lloyds Bank in Yatton, North Somerset.
A chief forecaster for the Met Office said: "An area of low pressure is expected to move eastwards across the UK on Monday with a swathe of very strong winds around its southern flank, which would affect parts of southern Britain. The winds are likely to be very gusty at times, particularly in association with heavy showers running across these areas."
The Met Office has predicted that the wind should ease towards the afternoon and evening, with an amber warning for wind in place until 6pm on 8 February. Until the warning is lifted, the public have been cautioned to remain indoors where possible and walk far away from buildings and trees when outside.