Street Fighter 5 review: Online issues undermine Capcom's exemplary fighter
Street Fighter 5
Platforms: PS4 (tested), PC
Developer: Capcom
Publisher: Capcom
Release Date: 16 February
It starts with two people, two health bars and two different strategies for winning. Street Fighter 5 is a six button game – buttons that can be and will be mashed but which also offer a depth of gameplay few other games can muster. Each of the 16 playable fighters has light, medium and heavy punches or kicks, with different directional inputs and combinations of button presses giving you character-specific moves. Street Fighter 5 has a near-endless skill ceiling, meaning that for even the most knowledgeable and dedicated fans, training never really ends.
Street Fighter 5 has been tuned a little bit slower than its predecessor, making each attack more important. Characters do more damage and there's a greater focus on blocking attacks, so you won't get far by simply mashing buttons. Gone are the arcane combos and setups, replaced by a more tightly controlled battlefield. Each inch of space could be the difference between victory and defeat – and the same goes for the dominance in the air. Jumps are punishable with anti-air moves and can leave you open.
The game's new V-System adds a host of new gameplay elements. These can be used to break out of a tight spot, with V-Reversals offering the chance to counterattack, or improve your chances with a V-Trigger – character-specific boosts that give players an advantage. For example, Ryu's V-Trigger electrifies his special moves and increases how stunned his opponents become following an attack.
There are also character-specific V-Skills. To use the series' most iconic fighter as an example again, Ryu's allows him to absorb hits with a parry. These elements are just a few of the small tweaks developers Capcom has brought to the table.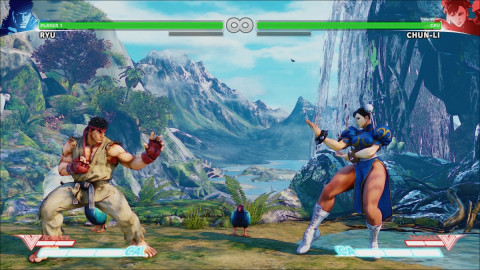 Each of these changes makes for a better game. The slower pacing and various facets of the V-System increase the options in battle. With each character in Street Fighter 5 feeling so unique, players could potentially be dedicating hundreds of hours to mastering a single fighter. Solely taking on the single-player modes will only get you so far, though; this is a game built around something much larger – the competitive fighting game community.
If you go online with Street Fighter 5 you will be greeted with a bevy of options. The Capcom Fighters Network shows replays of past fights, which can be refined by player ID, allowing players to study how others play. There is also a Starcraft-style ranking system. Depending on how many league points you rack up in ranked matches, players will be set in an appropriate bracket. For those with a more laid-back approach to Street Fighter, there is also casual play – in which players face off against strangers online without having to worry about getting relegated out of the Bronze League and back into the "rookie" kiddie pool.
This smart set-up is sadly let down by Capcom's netcode (code that handles data transferred from system to system), which is brilliant when it works but renders the game near-unplayable when it doesn't. Casual and Ranked matches work near-flawlessly, with just the occasional match effected by lag. However, Battle Lounge (where players can set up private lobbies for one-on-one fights) is completely broken. I know I'm not the only reviewer to have enjoyed a smooth experience in other multiplayer modes only to encounter game-breaking lag in the Battle Lounge.
If you choose to only play the game solo, you'll be left disappointed by a lack of variety and depth in the modes. The story mode is in line with previous games, with each character getting two to five matches and a basic story arc, but it still manages to feel barebones. Trials mode, which is an integral part of learning a character's moves, also feels stripped back. In truth, all of SF5's modes feel this way and the result is what feels like an unfinished game. That said, despite its lacking single player modes and issues with online stability, the core of the game is still there and it is impressive.
Street Fighter 5 has a great, newbie-friendly fighting system that retains the depth of its classic predecessors for players to master. In many ways it's the best Street Fighter yet, but launching with the netcode in such a state can't go unnoticed, especially when it impacts such an important part of the multiplayer. The core of Street Fighter is still there, and is as good as ever, but unfortunately these problems - plus lacking options in single player - mean there's not a lot else.
For all the latest video game news follow us on Twitter @IBTGamesUK