Tap My Katamari
Platforms: iOS, Android,
Developer: Bandai Namco
Publisher: Bandai Namco
Release Date: Out now
This is going to be a great year for games, with so many exciting releases we split our 2016 preview into five parts. That said, things haven't got off to the best start over on mobile...
Bandai Namco's Katamari series has been a beloved cult favourite since the PS2 era, during which the series' first two games were released – Katamari Damacy and We Love Katamari. A steady stream of sequels followed on Xbox 360, PS3, handhelds and mobile devices, but never anything of quite the same quality.
Tap My Katamari is the latest game bearing the name, and the first since Touch My Katamari was released for the PlayStation Vita in 2012. Naturally news of the series' return was met with some excitement, but any and all enthusiasm for or interest in the game is undone within a matter of seconds spent playing the final product.
The game describes itself as an endless (cosmic) clicker, and well, it's not wrong. Players tap the screen to move their Prince across a scrolling screen as he rolls his Katamari (a sticky ball), collecting any and all objects in its way and constantly growing in size.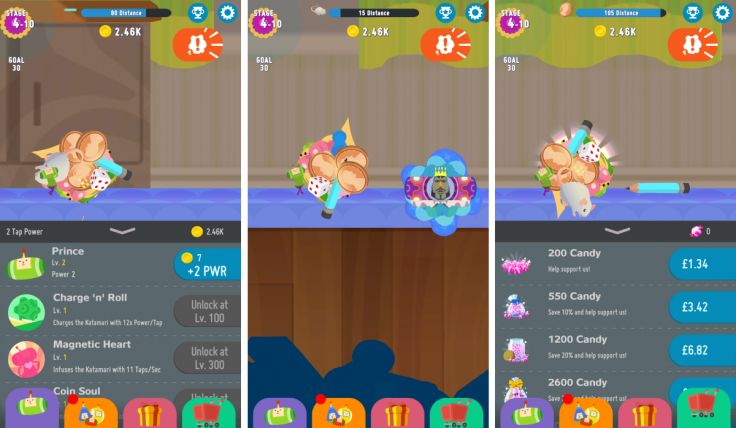 That's all there is really. You just tap, run things over and grow - the backgrounds occasionally changing to reflect this. At first you tap with one finger, then, as the distance between objects increases, you tap with two or more to speed things up a bit. That's about as deep as the gameplay gets.
The same objects are collected over and over, the katamari's speed barely changes - there's no skill required, no obstacles to overcome save for an occasional time attack challenge that marks the end of one "world" (marked in a similar fashion to the Mario series) and the start of another.
Players are prompted to use the coins they collect to purchase "cousins" that float around and do... something? It's not really clear. I'm pretty sure they just speed things up. There are abilities too, locked until you reach a certain levels, and sweets - another form of currency (which you can buy in bulk with real-world money of course) with which you buy... again, it's not exactly clear.
All of this is in the periphery really, as is most of what Tap My Katamri bombards players with. Strip all that away and what you're left with is an app trying to convince you that tapping a screen repeatedly and for great lengths of time is somehow a worthwhile experience.
All the game has going for it is its cute and colourful design and a chirpy soundtrack, but that only masks the game's true nature as a soulless and insipid time-vacuum. Tap My Katamari marks a dire start to 2016 for mobile games, but at least from here the only way is up. At least now I've reviewed the game I can delete it off my phone.
Our verdict
A game even more boring than this verdict.
For all the latest video game news follow us on Twitter @IBTGamesUK.