Striking a post-Brexit trade deal will be 'a laborious endeavour' German vice-chancellor warns May
Sigmar Gabriel said Germany 'as keen as the UK' to agree on an 'orderly withdrawal' and trade terms.
Germany's vice-chancellor has warned Theresa May that striking a new trade deal within two years will be "quite a laborious endeavour" after the prime minister triggered Article 50 last week.
In her letter to European Union (EU) Council President Donald Tusk, the prime minister said "it is necessary to agree the terms of our future partnership alongside those of our withdrawal from the EU" – a call flatly rejected by European politicians including German Chancellor Angela Merkel.
Her view was backed by Sigmar Gabriel, Germany's foreign minister and vice-chancellor, who said Britain's "orderly withdrawal" is the priority. Only then can talks on a future relationship proceed, he added.
In an interview with The Independent, Gabriel said: "We are as keen as the UK is to complete both agreements as soon as possible."
He added: "First, we have to get things right on the orderly withdrawal, then we will want to talk as soon as possible about our future relationship and get as far as we can within the next two years.
"However, I don't want to speculate on time frames at a time when negotiations have not even started yet. Both sides must recognise that an agreement on a wide-ranging partnership will be quite a laborious endeavour."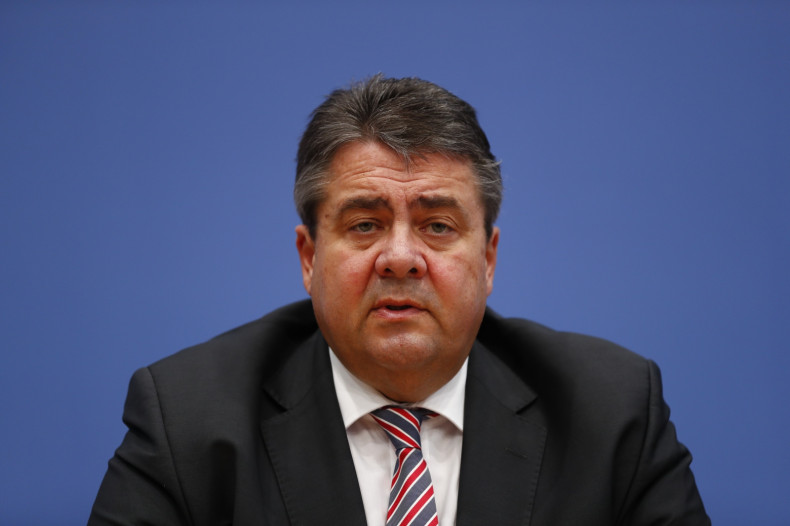 One bone of contention is the cost of the UK's divorce from the EU, with estimates ranging from €25.4bn to as much as €65.1bn (£21.7bn to £55.6bn). According to The Times, Treasury officials have privately admitted that exiting the EU would cost more than £20bn, but a Guardian poll on Monday (3 April) revealed that 70% of British voters would find a bill to that tune "unacceptable".
With the figure is yet to be decided in negotiations, Gabriel said: "We'll also have to work together towards achieving certainty that the UK will honour its financial obligations towards the EU."
The prime minister has come under pressure over her remarks that "a failure to reach agreement would mean our cooperation in the fight against crime and terrorism would be weakened". May's comments were perceived as tantamount to blackmail and appeared to suggest that she considered security a "bargaining chip in negotiations".
According to The Independent, Downing Street made calls reassuring European politicians that May had not threatened to withdraw cooperation on security.
Commenting on the row, Gabriel said: "If you look at the security threats we are facing today, from terrorism to organised crime to cyber attacks, you'll see terrorist and criminal acts are increasingly transnational.
"These people don't care about borders, and they surely won't wait for us to figure out a way to work together on security matters after Brexit.
"The nature of these threats makes security cooperation more of a necessity than a matter of political choice. No citizen in the EU or the UK would accept a negative impact on security due to a reduced level of cooperation after Brexit. That's why I believe it's in our shared interest to maintain close security cooperation."
A spokesman for the UK Foreign Secretary Boris Johnson said he will "reassure him [Gabriel] that we will not use defence and security as a bargaining chip in negotiations" as the pair prepare to meet.
The vice-chancellor also identified the fate of both EU and UK citizens as a key priority in the talks. Speaking after Kurdish-Iranian Reker Ahmed, a 17-year-old asylum seeker, was brutally attacked in south London, Gabriel expressed concern at attitude towards foreigners in Britain.
"We often hear from foreigners who reside in the UK and who are very concerned about Brexit and its consequences, not only for their rights but also for the general climate towards foreigners. This concerns me," said Gabriel.
Lib Dem leader Tim Farron said Gabriel's comments "show a level of awareness that has so far escaped our government."
He added: "The negotiations ahead are going to be complex and challenging.
"It is not clear what 'divorce payment' Britain may be asked to pay, it is not clear what sort of deal Theresa May is pursuing, let alone what may be reached, and we are now starting to see just how many spanners could be thrown in the works to turn this around within two years."