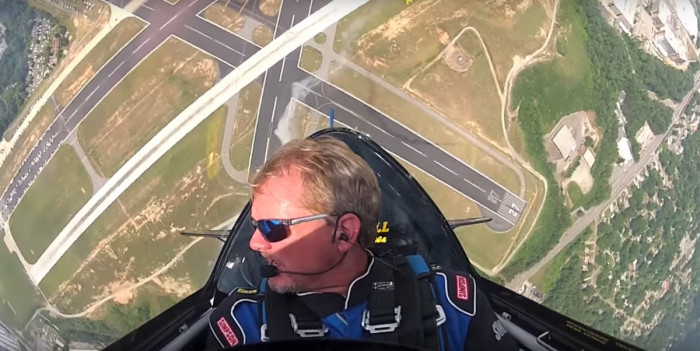 Hundreds of air show enthusiasts watched in horror as an experienced stunt pilot died when his biplane smashed to the ground during a tandem performance in Atlanta, Georgia. Greg Connell was performing a routine with fellow pilot Gary Ward at the Good Neighbor Day air show at Peachtree-DeKalb Airport when his plane crashed and burst into flames. Fire rescue crews doused the flames within two minutes but Connell was already dead.
Several onlookers captured the horrific incident on video. On one a show announcer can be heard saying: "Ladies and gentlemen, we've just had an accident. I want you to turn your children away from the field right now."
Gary Ward, Connell's mentor, said he had no idea the crash had occurred at first. "Greg flew underneath me and I had no idea Greg crashed like a second later," Ward told WSB-TV. "So I pulled off and the plan we had. I came back in the show for the next manoeuvre.
"We did individual manoeuvre at that point, and I went ahead and did my next manoeuvre, not knowing that Greg had crashed."
The Federal Aviation Administration (FAA) and National Transportation Safety Board (NTSB) are investigating why the crash occurred. Ralph Hicks from the NTSB said: "We're looking at the man, the machine and the environment. Obviously, the weather was good, some wind and we'll take that into consideration."
A message was posted on Connell's Facebook page saying: "Please keep Greg's family and friends in your prayers. There are no words to describe what we all are feeling right now. God bless & Godspeed Greg."
In 2015, 11 spectators died at Shoreham airshow when a Hawker Hunter, flown by Andy Hills, crashed into vehicles on the nearby A27. Hills survived.
The worst air show disaster in history was the Sknyliv air show disaster in Ukraine in 2002, which saw 77 people killed, 28 of them children, when a Sukhoi SU-27 crashed into spectators. Both of the Sukhoi's pilots ejected and survived.