Jack Colback is concerned that Sunderland may have to wait until the final game of the season to be assured of their safety as he feels Wigan may pull off a major shock by beating Arsenal at the Emirates Stadium.
Sunderland were held to a draw against Southampton on Sunday in their final home game and will only be able to relax if Wigan are unable to defeat Arsenal.
However, after witnessing Roberto Martinez's side pull off a surprise victory over Manchester City in the FA Cup final, Colback is concerned that Wigan will once again manage to secure a vital victory when they most need it.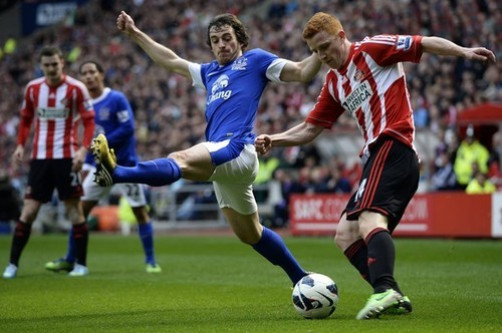 "If it was any other team than Wigan then you would be a bit more confident," Colback told the Northern Chronicle. "As they showed in the cup final on Saturday, they can beat anyone.
"We are focusing on Tottenham on Sunday, but I am sure there will be a few eyes on the game tonight - and hopefully Arsenal can do us a favour.
"We should have sealed it for ourselves on Sunday, though. We should have won against Stoke, although after going down to 10 men you would have taken a draw.
"Sunday's game was one we should have taken the three points from. That is easier said than done, though, and we were disappointed with the result."
Wigan have shown season after season that they are at their most dangerous towards the end of the season when they are inevitably fighting against relegation.
But Arsenal also have plenty to fight for as they attempt to gain all three points and once again move ahead of their bitter rivals Tottenham into fourth place with just one game remaining.
Sunderland may also have a part to play in who secures the final Champions League place as they take on Tottenham in their final game of the season. Andre Villas-Boas' side are two points ahead of Arsenal but will need the Gunners to slip up in one of their final two games in order to make sure of fourth place.