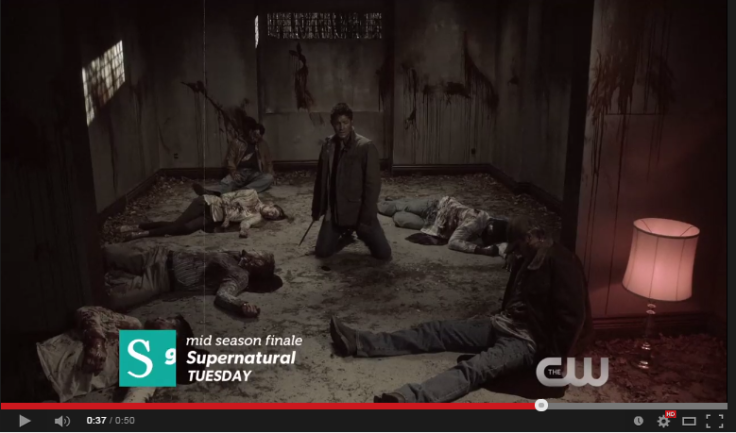 Supernatural season 10 midseason finale might bring back Demon Dean again.
In a new promo released, Dean is seen covered with blood and surrounded by dead bodies, and it looks like he is responsible for their death.
In the 50 second clip, Dean asks Castiel to take him out if he goes on the dark side. And the scene cuts to the clip of corpses lying around and Dean holding a bloodied knife.
The elder Winchester brother tells Castiel: "Knife me, spike me, throw me into the freaking sun, and don't let Sam get the way because he will try."
"I cant go down that road again.. I can't be that thing again," says Dean.
The promo confirms that he is still affected by the Mark of Cain, and teased that Castiel might actually kill him.
"This midseason finale ignites the Mark," says the promo, with several shots of dean with Demon eyes, killing people .
Crowley says, "Son you have not changed," with dean laughing loudly.
Watch the teaser here:
In last night's episode, titled, Hibbing 911, Donna and Jody Mills join Sam and Dean in hunting the vampire sheriff, but the sheriff was actually one of the good ones, and tells them to run before they're all attacked by a bunch of local vampires.
The sheriff was the leader of a group of hippie vampires, but he left the group to straighten his ways and was only drinking from blood bags. The hippies want him back, but he refuses, so they want to kill him. Dean later kills two of the hippie vampires.
Dean confides in Sam that, for the first time, he didn't feel like the mark was compelling him to kill. He felt like himself, finally.
But he was clearly lying.
Supernatural's midseason finale titled, The Things We Left Behind, will re-evaluate the Mark of Cain on Dean's hand.
According to reports, the episode will put Dean's problem back on the table, reintroduce Claire Novak, mention John Winchester, and potentially deal with Castiel's failing grace, apart from containing a shocking twist.
TV Line reports that the elder of the Winchester brothers, will finally make a decision about the Mark of Cain before heading into the winter hiatus.
The season 10 was promised to be a "year of Deanmon", and fans might actually get to see a lot of Demon Dean when the show returns after a winter hiatus.
Will dean turn into The Knight of Hell again?
Watch the fall finale episode that airs on Tuesday, 9 December on the CW.