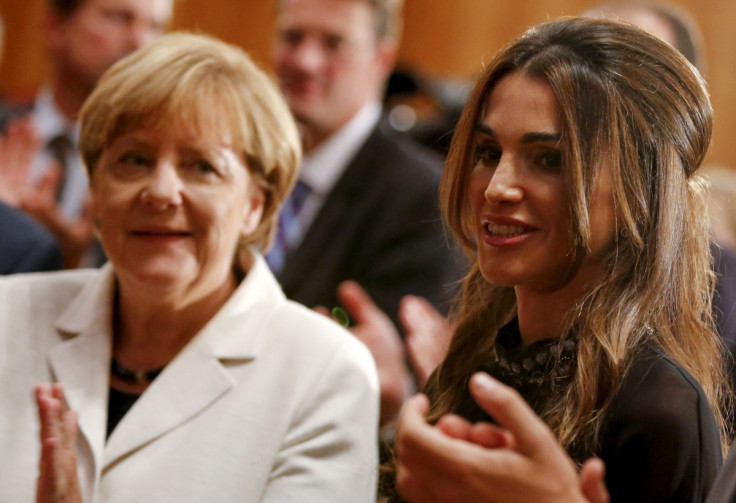 Sweden's Queen Silvia presented an award to Queen Rania of Jordan on 24 September during a World Childhood Foundation event in New York. The award celebrated Rania's work in advocating for children's rights in Jordan. During her stay in New York, Queen Rania also met up with Texas teenager Ahmed Mohamed.
According to Hello! Magazine, Silvia, the founder of the foundation, stunned with a floor-length red gown with rose detail. Meanwhile, Rania sported a stylish black and white wide-leg trouser and shirt ensemble.
The Jordanian government stated that the queen was accompanied by her husband, King Abdullah II, who was set to address the UN General Assembly. "There is no second chance at childhood," Rania said during her acceptance speech. "With what we have and who we know, we must all do what we can to keep the youngest members of our global family safe."
Rania also praised her fellow royal for her foundation's efforts to provide a better life to children around the world: "Your Foundation represents the hope of a better life. Whether it's helping refugee children in Germany better integrate, providing children in Ukraine with after-school support, The World Childhood Foundation is a lifeline for children in need."
According to People Magazine, Rania also met with 14-year-old Ahmed Mohamed, who was arrested after police mistook a clock he built for a bomb. The two met on 27 September in New York City at the Social Good Summit during United Nations week, the magazine reported.
The Jordanian queen had a busy weekend, attending the Right, Smart, Now: Investing in Girls, Women and Gender Equality dinner on 25 September and the Global Citizen Festival in Central Park on 26 September. People Magazine reported that Rania used the festival to reiterate her call for action on the Syrian refugee crisis.
"For millions, this is their darkest hour. Their time of greatest need. It's also your time... You can show the world that all lives matter."