Syria air strikes: Veterans throw medals away in 'disgust' at Downing Street over Isis bombing
Veterans have discarded their war medals in "disgust" outside of Downing Street, in protest against the air strikes against Islamic State (Isis) in Syria. Veterans for Peace (VFP) gathered in Westminster on 8 December to throw their medals on the road and denounce the parliamentary vote for action against IS (Daesh).
Ben Griffin, a former soldier from VFP, said, "I think it is ridiculous that they voted for [air strikes in Syria]. We fought in Afghanistan, we fought in Iraq and in Libya, and it didn't solve a thing, it made things worse. It is highly disappointing, having gone through these wars, to see MPs voting for more war. War is not the solution to this problem. More bombs in Syria isn't going to solve this. We are completely disgusted by those MPs."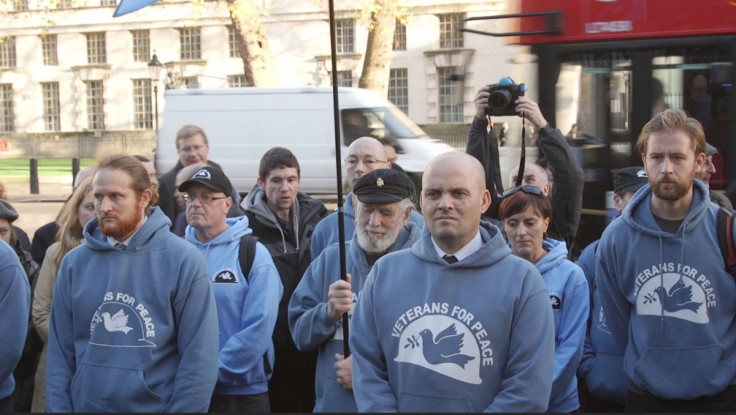 A number of veterans made speeches against the military action in Syria, with many of them throwing away medals they had received in Iraq and Libya. Kirk Sollitt, who served in the Gulf War said: "By bombing in Syria we are killing innocent, vulnerable sentient beings, men, woman and children. You cannot sow bloodshed and reap peace. I no longer want these medals."
Veterans for Peace has over 200 members in the UK and thousands in the US. David Smith, who served in the Royal Green Jackets, said: "I want to express my utter disgust at the decision to unlawfully bomb Syria, god help all those who are likely to suffer as a result of this action. I renounce all forms of state sanctioned warfare and violence".
After an 11-hour debate on 2 December, MPs in the House of Commons voted for air strikes against IS in Syria. There have since been a number of strikes against key targets in the area, but also warnings that civilian casualties are possible.
© Copyright IBTimes 2023. All rights reserved.