Syria: Looted Byzantine artefact sold in London for £50,000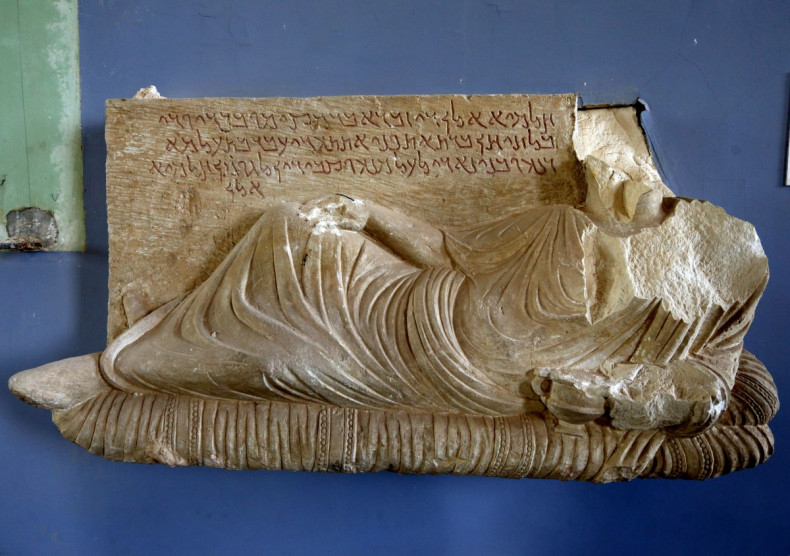 Suspected looted artefacts from Syria have appeared on the London market where they are being sold for tens of thousands of pounds, IBTimes UK can reveal. Archaeologists based in the British capital confirmed they had spotted a number of objects that can be traced to the war-torn country at local antiquities stores.
Proving that they were sourced from pillaging of heritage sites is however difficult, but at least one item was seized by police after experts positively identified it as coming from an ancient Roman city in a southwestern rebel-held area. The Met's Art and Antiques unit said its officers had confiscated a 2000-year-old Jewish stone lintel from an antiquities shop in central London during an operation in February.
Police were alerted to the suspicious item by Mark Altaweel, a near-east specialist from the UCL Institute of Archaeology, who had visited the shop at the end of January. Altaweel told IBTimes UK that the decorative piece was displayed with a sale price of £50,000.
Police said after speaking to the owner of the shop, who "co-operated fully", they were unable to establish details of the provenance of the lintel, which was subsequently seized and placed in secure storage, "until such time as provenance could be established". No arrests were made and the enquiry continues.
Altaweel said it was certain the artefact, which he described as a "known item" from Syria's Byzantine period (4th to 7th century AD), had been snatched from a site in the city of Nawa. He said the origin was proven by photographs of the lintel that appeared in a 1938 archaeological volume detailing artworks from the city.
Located off the Golan Heights, near the Israeli border, Nawa is famous for Byzantine artefacts bearing Jewish symbols. Due to the five-year conflict that has devastated the country, it is hard to determine when exactly the late antiquity was removed from its original location.
However, the archaeologist said that due to its historic importance it was highly unlikely for its sale to have been officially authorised. "[There is] no way the Syrians would have sold this object," he said.
Syria's unique variety of Unesco-protected archaeological treasures have suffered greatly because of the war. Many sites have been damaged through fighting or widely plundered. Parties implicated in the widespread looting have included the regime, accused of profiting from illicit excavations.
Initially overlooked amid mass war casualties, looting has become a major international concern after it was revealed that trafficking in antiquities was one of the Islamic State (Isis) group's main sources of revenue.
Given the systemic dimensions of the problem, in February 2015 the UN banned all trade in artefacts from the region. Nevertheless experts say a large number of objects continue to find their way out of the country, mainly via Turkey and Lebanon, and eventually end up in the West.
Detectives on the hunt for suspicious artefacts however face great difficulty in proving looting in the absence of proper documentation. The Met police described the investigation process as "painstaking".
"An artefact looted from one country will often exchange hands in other countries before emerging on the London art market," a Met spokesperson said. "Enquiries that begin with the unit regularly require international assistance and liaison with foreign jurisdictions."
Moreover, while some artefacts have peculiar markings and decorations that link them to specific Syrian sites or areas, many others share common Roman or Byzantine features also found in other regions.
"It is really hard to trace looted items from cultures or empires that were spread over wide territories," said Martin Makinson from the Association for the Protection of Syria Archaeology (Apsa). "A Roman object can come from northern Syria like from Pompeii, Turkey or Lebanon".
Although archaeologists can have well-founded suspicions about some seemingly Syrian artefacts, it is easy for dealers and collectors to argue they have obtained them elsewhere.
Altaweel said that the high selling price of his London discovery revealed how, despite the international outrage at IS (Daesh) pillaging, the stolen art market was a thriving market in the West. "It just shows you that these things have interest," he said.
London is home to many art collectors and has long been a major gateway for looted antiquities, so it is not surprising that suspected Syrian works have surfaced here, Altaweel said. At the same time, illicit trade is increasingly being conducted online and the market is now more diffused, experts contend.
The Met's Art and Antiques unit said they had no evidence suggesting that the London art market is experiencing a glut of artefacts from conflict zones in Syria and Iraq. "The unit is currently dealing with a very small number of enquiries and investigations relating to allegations of stolen or illicitly-excavated antiquities from these areas," a spokesperson said.
"Whilst there remains the possibility that such items are reaching London, intelligence is very limited and for obvious reasons it is currently very challenging to obtain information from these areas. We maintain an open dialogue with London museums and members of the London art market community, and continue to encourage members to bring any items of concern to our attention."