When Mouamar, her husband and their four children left their middle class home in Homs in 2012 for the Lebanese border they imagined they would return home in a few short months. Four years later, and with her husband missing in Syria, Mouamar and her family are burning rubbish in a single heater to warm their dilapidated tent.
Mouamar, Riyad, 15, Basel, 13, Hani, 12, Yasmine, 10, and Abdel Aziz, just four months old, all sleep together in the small, damp tent they share. The ground is wet and the air is thick with fumes from plastic burning in the central heater. The smell suffuses their clothes and blankets in the single- roomed structure. Abdel Aziz, who in his short life has known only the cold winter of the Bekaa valley, gives a hacking cough every 10 minutes or so.
The cleanest item in the tent is a sterilised breathing apparatus, purchased with money from blankets the family sold, and which doctors have told Mouamar she must use if Abdel Aziz stops breathing again. He had to be rushed to hospital and kept overnight the last time.
Mouamar's husband had to return to Syria to treat a stomach condition the family could not hope to address in Lebanon. He was forced to flee to Turkey – to become a refugee for the second time – after he was conscripted into the army. They haven't heard from him since March 2015.
The family is destitute. Mouamar told IBTimes UK their situation was the worst in the settlement but their story is a common one among the nearly one and a half million Syrian refugees that have made Lebanon their home since 2011.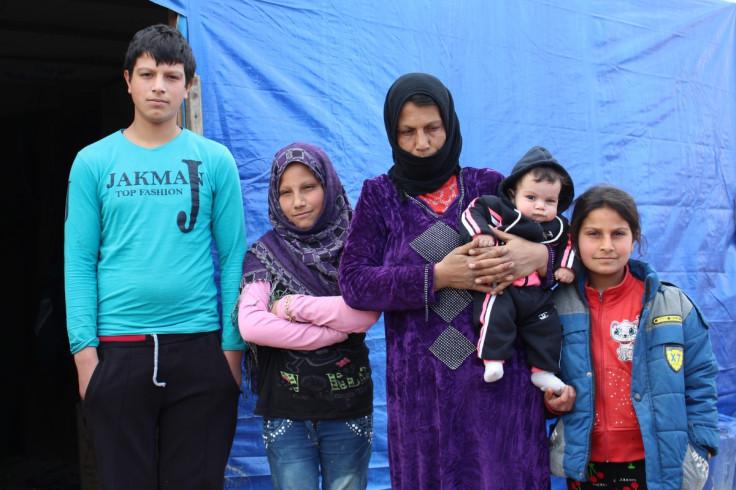 The protracted and bloody civil war in Syria, coupled with limited assistance for refugees, mean they are living in cycle of debt. As what little savings are held by Syrians fleeing the conflict run out, the cost of dealing with illnesses such as Adel Aziz's breathing problems increase.
Following cuts to the World Food Programme (WFP) budget in 2015, Mouamar is forced to use cash supplied through the NGO World Vision's winter fuel programme for food. The initial $200 (£140, €179) and subsequent $100 per month (£70, €89) supplied over a five-month period is supposed to be spent on fuel but has had to be allocated to other necessities. "I have to use it to pay for the bread," Mouamar explains.
The result of the gut-wrenching compromise means Riyad and Basel spend their days sorting through litter to find things to burn. They pick the rubbish from ditches and roadsides, avoiding Lebanese cars and other Syrian children who will tease them because they are poor.
They hide the plastic just outside the settlement and return under cover of darkness to avoid the taunts. "We collect the plastic but we don't bring it here because we are too ashamed that people will look at us in a bad way. So we collect the plastic and put it somewhere else – we hide it and then at night we take it to the tent," Riyad explained.
The family has endured a torrid winter. When in January temperatures dropped in Lebanon and the first snow storms hit their settlement the strength of the winds and weight of the snow meant their tent collapsed.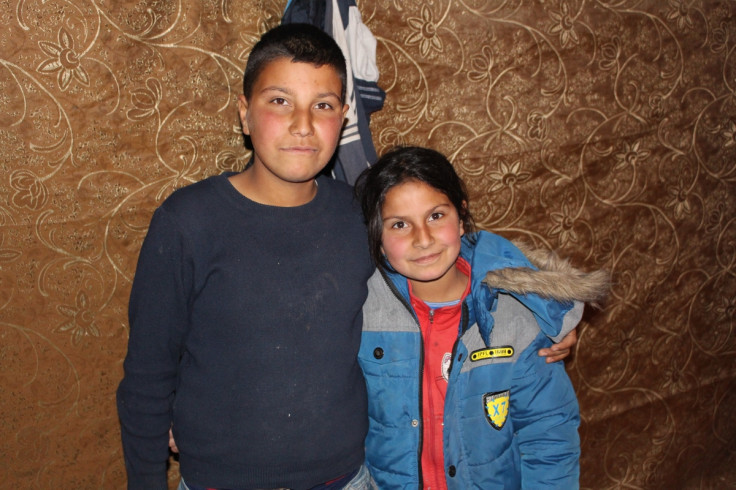 "It fell at midnight, the wind was so strong," Mouammar explained. "The children started to scream and cry. The boys took care of the girls and I took care of the little one. We ran away to the neighbouring tent," she added.
Their new tent is leaking. One night Mouammar awoke to find water dripping on Abdel Aziz's head. He had to be taken to hospital not long afterwards. The family has a few possessions which include a Quran and bible. Mouammar says they remind her of a time where different religious groups lived side by side in Syria, something she fears now has been irrevocably lost.
Yasmine is the only one of the children in school. Classes and the transport cost Mouammar 10,000 Lebanese Lira a month (£4.63, €5.93) so the children were asked to vote for which of the four of them should attend classes. Her brothers said Yasmine needed to go because she had never been to school before. Yasmine is happy she can go to the lessons but upset her brothers have been deprived.
Patricia Mouamar from the NGO World Vision's branch in Lebanon explained while Syria's refugees might now be counted in the millions, the crisis played out on an individual, human level. "A quarter of the population of Lebanon is made up of refugees and the country's under immense strain. But this isn't a crisis of numbers – it's a crisis of humanity," she said.
"Behind every statistic there's a girl, there's a boy, there's a community in dire need. The lack of funding has meant that parents are facing tough choices. Children are dropping out of school. The children I speak to want nothing more than to return to Syria. Until they can do that, extra funding will go a long way to ensure their survival and secure their future."
- Callum Paton travelled to the Bekaa Valley in Lebanon courtesy of a non-governmental organisation.