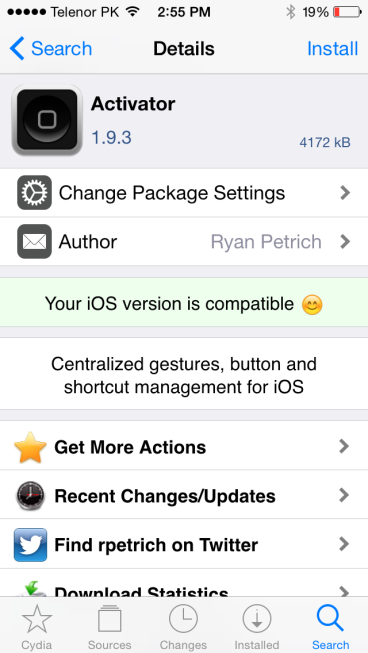 The jailbreak community is in for some exciting news, as Ryan Petrich's popular jailbreak tweak – Activator (v1.9.3), has been released on stock Cydia repos for iOS 8.3 jailbroken devices.
The Activator 1.9.3 is out of the beta phase and this final build has been optimised for a stable performance on iOS 8.3. Hence, you no longer have to face the bugs or issues encountered on the previous versions.
It is imperative that you have already jailbroken your device with the TaiG jailbreak 2.1.2 with Cydia Substrate fix, before you download and install Ryan Petrich's Activator final version via stock Cydia repos.
Activator enables you to assign customised gesture based actions on your iOS device to a predefined set of tasks such as pressing the volume button, or performing a gesture like the three finger pinch.
The Activator 1.9.3 comes with a host of bug-fixes and feature enhancements over its previous release. Check out the full changelog below (courtesy iDownloadBlog):
Basic support for iOS 8.3
Add option to suppress passcode when activating an app at the lock screen
Better support Activator actions written using ARC
Fix unlock to dispatch event behaviour on iOS 8
Make camera shutter action take photo after the camera app opens, if it needs to be opened
Add custom command actions
Fix VPN settings action on iOS 8
Make the fingerprint sensor hold put the Touch ID sensor into matching mode when assigned
Treat entering deep device sleep as leaving the Wi-Fi network (even if the WLAN interface hasn't left the building yet)
Update localizations
Add system-wide back button action
Support activating actions via URLs (activator://send/…)
Re-enable message events
Allow unassigning more things via swipe to delete gestures
Adjust Touch ID events on iOS 8 to use matching mode less often
Fix dictation action on iOS 8
Fix rare crash in file providers
Improve launch time of message composer actions
Fix custom Siri actions on iOS 8
Interested users with iOS 8.3 jailbroken devices can go ahead and install the final build of Activator 1.9.3, using the step-by-step guide provided below (courtesy Redmond Pie):
Step 1: Open Cydia by double-tapping the Cydia icon on the home screen of your jailbroken iOS device.
Step 2: Select Changes tab at the bottom and hit Refresh in top left corner.
Step 3: Wait until the repositories get refreshed and then proceed to BigBoss repo via 'Sources' tab directly to download Activator section, or just search for it in Cydia.
Step 4: Hit Install in the top right hand corner to install the package onto your device.